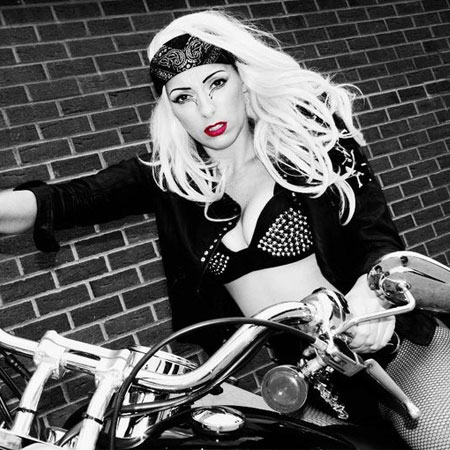 Lady Gaga Tribute: Donna
The Official UK No1 Lady Gaga Tribute by the Agents association at the National tribute music awards in 2013 & 2016
Outstanding live sound-a-like vocals with accurate Gaga choreography
Available with a 7 piece live band made up of top pro touring musicians
Previous clients inc Apple, Bacardi, Aston Villa, Sky, Boots, Argos, BBC
Amazing Lady Gaga tribute is available to perform at events worldwide.
Lady Gaga Tribute: Donna VIDEOS
Lady Gaga Tribute: Donna PHOTOS
There is no other Lady Gaga impersonator as accurate, as breathtaking and as talked about as multi-award winner Donna. Even Lady Gaga's Management company 'Ate My Heart' couldn't tell the difference between some of Donna's photos and the real Lady Gaga. This show is the Lady Gaga tribute that raises the benchmark for all other tribute artists.  The Lady Gaga tribute show is a visually stunning and dramatic theatrical performance that recreates all of the drama, glitz and glamour of Lady Gaga's most memorable performances. The perfect private party or corporate tribute entertainment option, hire our pop star tribute for events worldwide. 
Our Lady Gaga is internationally acclaimed as the "Best Lady Gaga Tribute on the planet"! An amazing pop star tribute, she has recently been crowned the official UK No1 Lady Gaga Tribute by the Agents association at the National tribute music awards in 2013 & 2016. Highly acknowledged worldwide our Lady Gaga impersonator has previously beat off stiff competition from fellow nominees Sinitta, Gareth Gates, Joe McElderry and Sophie Ellis Bextor to win a prestigious GOSCAR award for the Best Act of 2010 and in 2012, won the award for the Best Act of 2011, again beating stiff competition from nominees Sinitta, Stacey Soloman, 2 Shoes and Jonny Robinson.
The only Lady Gaga Impersonator and Tribute in the world that uses an authentic working replica of the Lady Gaga Spark (Pyro) Bra. All the costumes are professionally tailored handmade replicas of the Haus of Gaga wardrobe, designed and created by Donna and James MacIver (BBC Television and West end Theatre costume designer). The costumes cost thousands of pounds to make, but the attention to detail is noticeable with every single stitch, helping to re-create the experience of drama, attitude and fashion that is "LADY GAGA".
With 100% Outstanding live sound-a-like vocals every time, up to 20 Jaw dropping replica Gaga costume changes, amazing and accurate Gaga choreography, fully working replica 'Spark Bra', spitting image looks and full on Gaga attitude, this is the ultimate non stop, live tribute show to 'The Gaga' herself.
The Lady Gaga tribute show is available worldwide and can be tailored to suit any venue, event and capacity. Clients to date range from global corporations and five star hotels (including hotels frequented by the real Lady Gaga when on tour!) to more personal private functions including birthdays and weddings etc.  Each performance to date has received a standing ovation and has left audiences screaming for more.
Contact our entertainment specialists to find out more about booking our tribute artists for your events worldwide.
Beautiful Dirty Rich
Just Dance
Paparazzi
Speechless
Love Game
Pokerface
Telephone
Bad Romance
Edge Of Glory
Born this way
Alejandro
Americano
Judas
Dance in the dark
Scheisse
Fashion of his love
Hair
Lady Is a tramp
Monster
Teeth
You & I
Applause
Venus
Do what you want
Manicure
GUY
Gypsy
Plus many more…
Marry the night
Boots PLC
Apple Computers Inc
Mars Y&R
Devere Hotels
Ramee Hotels (Bahrain)
Cook Medical (Australia)
Mercure hotels
Davids Hotel & Spa
Delilah's (Newport)
Plus many more
SKY Television
Argos
Bacardi
Stennaline
Grosvenor Casinos UK
Slad Is (Moscow)
Aston Villa Football Club
Towers Hotel & Spa (Swansea)
Mailcoach (Swindon)
TF1 Television (France)
Universal Studios Sentosa (Singapore)
ITV Television
The Venetian (Macau)
The Holiday & Cruise Channel
Butlins Pontins
Kremlin club (Belfast)
The Breweryfield
Wow Bar (Cardiff)
Cardiff Mardi Gras
BBC Television
New Look Plc
RTL Television (Germany)
Media Wales Ltd
HM Forces
Clarion Hotel Flesland (Norway)
Principal Hayley
Bridgend RFC St
The Lounge (Chistlehurst)
Swansea Pride
" It was a pleasure to have you in zurich, your performance was simply great in every detail (professional). The resemblance to lady gaga is really impressive. One thing is obvious: the stage loves you and we love you. hope to see you back in switzerland soon!! "

Lore & Pino from Pino Music Switzerland / Acanto Club Zurich
" Firstly. Thank you so much for Saturday. You were truly amazing.Since I have dealt with you, you have shown us nothing but complete kindness, courtesy and attentiveness. I would happily deal with you again.As for the show, it was breath-taking. Everyone on the day made us feel very special, and your staff were wonderful and very professional. Everyone who attended has said that you were the highlight of the day, and I totally agree.Please thank your dancers, and staff as without them the show would have been impossible. But a special thank-you to you for making everything so perfect. "

Kristian Brittain MAAT, ACMA Private Party (Wedding) 13/11/2010
" We booked Donna's Lady Gaga tribute show to perform at Swansea Pride 2010 and we were more than delighted with the performance the Donna Marie gave. Donna looks the part of Gaga so much so that you would think that her costumes were borrowed from the lady herself. On top of this Donna definitely has the voice, with live vocals for the whole set and amazing dance routines. Even our professional sound engineers commented on how good her vocalsThe crowd loved the show with most people having to take a double take thinking they were watching the real thing, and who could blame them with the look and the voice that was on our main stage!The whole committee agreed that Donna stole the show, bearing in mind that there were more than 30 acts performing that day including top act Rozalla! With that in mind Donna's Lady Gaga tribute has been the first act to be booked for a repeat performance at next years event! We can not wait to see her again and would definitely recommend booking her! If you are looking for a great act who has clearly spend a lot of time, money and effort to make sure it is the best Gaga Tribute in the business then Donna's Lady Gaga tribute show is for you! "

Jay Harley, Swansea Pride Entertainments Manage
" Absolutely bloody marvelous "

Bobby Davro , Top international comedian at Aston Villa Football Club
" You looked fab, your voice is stunning. The show was truly amazing "

James Hopkins, Owner, Kudos Night Club Pontypridd
" You were genuinely amazing! "

Darren Mackey
" Absolutely outstanding and she sang 100% live, the audience thought it was the real Lady Gaga. "

THE VENETIAN, Macau, China
" Oh my god you look just like me, you are amazing! "

LADY GAGA
" Can't tell the difference "

ATE MY HEART MANAGEMENT (Lady Gaga's management)
" Donna as Lady Gaga was something else, at pride it could have been the real one, well done Donna you're the best Gaga in the country bar none "

Wendy Kane, Top International Vocal Entertainer and Female Comedian