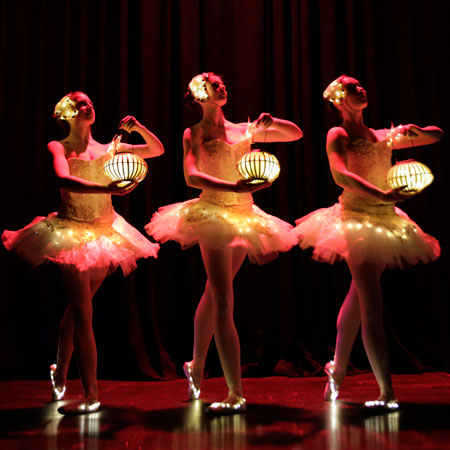 Lantern Ballet
Beautiful ballet ensemble dances with LED lanterns for breath taking and atmospheric performances
Book up to nine lantern dancers
Magical and immensely versatile our lantern ballet can be fully customised to suit your event perfectly
Highly trained ballerinas perform stunning routines that are remarkable to witness
Based in London and available for worldwide bookings
Watch as our beautiful lantern ballerinas create a mesmerising and tranquil atmosphere at your event with stunning routines and dazzling costumes. Book up to nine lantern dancers for a full lantern dance or hire our trio for atmospheric performances. This Lantern Ballet show is guaranteed to impress your guests with stunning costumes and expertly choreographed routines as they dance around your event creating magnificent event entertainment.
A magical and immensely versatile lantern dance that is fully scalable to suit your event and needs perfectly. Whether you desire a soloist lantern dancer, duo, trio, quartet or full LED lantern show with nine dancers – we can provide fully choreographed shows no matter what the event.
Watch as your guests are transported to tranquillity as they set their eyes on our gorgeous lantern ballet performance. Dancing with light, our ballerinas perform stunning routines whilst being dress in gorgeous white tutus with LED lights fitted into their pointe shoes, tutus and headpieces. Uniquely crafted to create an original and bespoke performance that is a delight to witness. 
These unique LED lanterns can also be paired with all sorts of costumes, enabling you to design your show accordingly to your event theme, occasion and preference.
With an optional speaker integrated into the ballerina's costumes this act is perfect for walkabout entertainment, mix and mingle events and meet and greets as they can take their music and their performance anywhere around your event.
Not only that but our performers can also be booked for three sets with an optional skill/costume change in between sets to create an exciting and dynamic performance that will stun your audience and create a well rounded and highly entertaining performance.
To book our breath taking Lantern Ballet contact our Entertainment Specialists, or to view more from our remarkable dance company visit our LED Latern Props,  Ballet Fire Show, LED Ribbon Dance, Optioscopes and Flag Dancer pages.