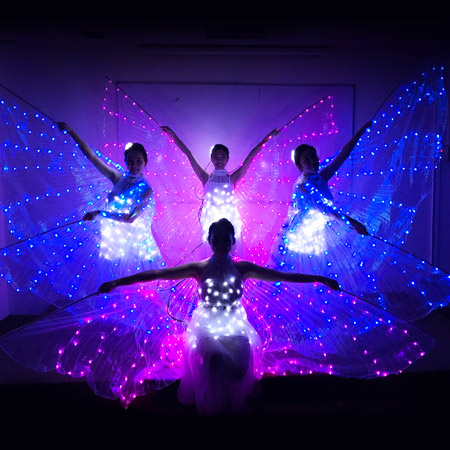 LED Butterfly Dancers Malaysia
Beautiful and graceful LED Butterfly Dancers from Malaysia
Create stunning displays with swooping movements and ballerina agility
Impressive LED lighting makes this act really stand out
Perfect for product launches or opening ceremonies as well as after dinner entertainment
Based in Kuala Lumpur and available to perform at events worldwide
LED Butterfly Dancers Malaysia PHOTOS
Our beautiful and extremely graceful LED Butterfly Dancers Malaysia will amaze guests with a magical illuminated experience and visually captivating dance routines that will have them in awe. This is a highly visual act that is perfect for short attention-grabbing performances.
The LED Butterfly Dancers are a thing of beauty. The group of female dancers have truly stunning fairy-like costumes that are completed by the incredible LED butterfly wings. They choreograph graceful dance routines with swooping movements and ballerina agility. The LED act dancers can perform a stage show or roam between guests. 
Suited to either stage or floor performances, our LED Butterfly Dancers Malaysia create a wonderful ambience and are guaranteed to capture guests attention for the duration of the show. The illuminated LED butterfly wings are mesmerising to watch and the different colours can fit in with company branding and specific colour schemes. There get the most out of this act, the LED butterfly wings stand out better in dark environments. 
Based in Kuala Lumpur, the LED Butterfly Dancers are available for shows throughout South East Asia as well as internationally. This LED act is perfect for product launches or opening ceremonies, after dinner entertainment and as a warm up for other entertainers. 
If you are interested in booking the LED Butterfly Dancers Malaysia for your special event or corporate function, please get in touch with our team of specialists at Scarlett Entertainment.