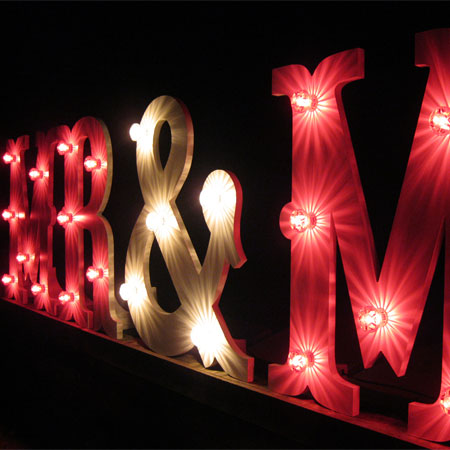 Light Up Letters & Numbers UK
Ensure your themed event decor stands out
Stunning themed light up signs will add the ideal decorative props for your themed event
Provide the perfect backdrop for your bespoke event with our creative venue dressing service
Light up letters and numbers leave a lasting impression
Celebrate birthdays and anniversaries in style
Light Up Letters & Numbers UK PHOTOS
Wow your crowd with a visual display of decorative props and light up letters for a bespoke event to remember! We provide creative venue dressing for stand-out themed event decor, ideal for your customised entertainment in the UK. 
Our fabulous light up letters and numbers offer a simple yet striking solution for your tailored event. Perfect for celebrating milestone birthdays and anniversaries in style, adding a focal point and endless photo opportunities to entertain your guests. 
Ensure your themed event decor stands apart with our striking Light Up Letters and Numbers, providing the perfect backdrop for a memorable thematic occasion. 
We offer a stunning range of marquee stye fairground letter lights that are extremely popular at weddings, festivals, themed events and private parties.
Dazzling light up coloured signs will add the ideal decorative props for your themed event or occasion, certain to catch the eye of your guests. Our creative venue dressing service will enliven your setting, ensuring unforgettable customised entertainment in the UK. 
So why not charm your party with custom-made Light Up Letters and Numbers, providing themed event decor to leave a lasting impression!
We provide a huge variety of signs and light up numbers or letters for your themed event.
Numbers:
Marquee style light up numbers from 0-9 - each number is 70cm tall and wrapped in a silver metal finish. 
Birthday's 1-16, 18, 21, 30, 40, 50, 60 - all available to hire in a range of different coloured bulbs to suit your theme. 
Giant 5ft / 1.5m Birthday numbers 40 or 50 with large Italian style fairground bulbs
Letters:
BAR letters, 90cm tall & 70cm wide. Mains operated, hung on a wall or freestanding.
Carnival Star - 60cm x 60 cm - these can be hired in different colours 
Uplighters - with LED bulbs - we offer a variety of colours. These are mains powered and create a great atmosphere, a good option for transforming venues easily
Circus Font Letter Lights:
70cm tall by 60cm wide
Plugs into standard mains
Available to hire are words, initials, messages etc (full alphabet) 
Letter Lights:
LOVE 90cm tall, available with clear bulbs, coloured or a mix of colours
Practical Tip:
Delivery and set up at your chosen venue included.
Contact us at Scarlett Entertainment & Events today to talk about booking our Light Up Letters & Numbers UK for your corporate team day or personalised event.