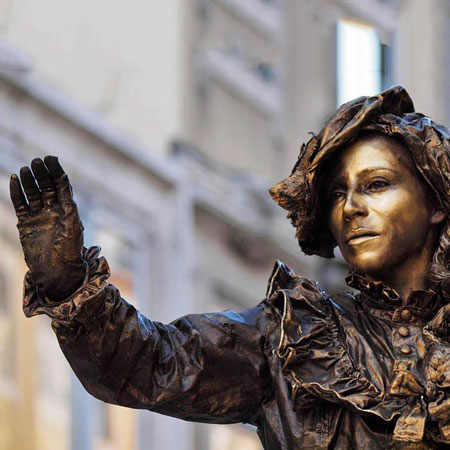 Living Statue Portugal
Street performers provide elegant and sophisticated performances that'll captivate
Phenomenal living statues keep guests engaged and entertained
Visually pleasing human statues provide your event with a "wow" factor experience
Remarkable costumed performers for themed events, private parties, etc
Book interactive entertainment for events across Portugal and worldwide
Living Statue Portugal PHOTOS
Book our dazzling and skilled street performers, and treat your guests to a fun and wonderful living statues interactive display piece. A delightful and thought provoking human statues experience that will keep your guests talking for hours, as our intricate and dedicated costumed performers create bespoke scenes and live performances. The ideal accent act for a variety of different social gatherings, our interactive entertainment experience will take your guests on a trip back in time, as our living statues performance features an assortment of "out of time" human statues.
An elegant moving and sophisticated offering, our interactive entertainment experience features our human statues and living statues sporting an assortment of masterfully crafted costumes, sensational make up, and dedication to stillness. Delivering a high quality performance, our costumed performers are experienced in background theatre and magical interactions. Providing a variety of characters, our street performers can provide a music box ballerina styled performer, a 50's post war home scene, and much more. A conversation engaging experience that will highlight your special event.
Our phenomenal living statues experience is the perfect option for street performances, gala dinners, drink receptions, private parties, weddings, ceremonies, conventions, cultural events, and much more. Our stunning street performers will seduce your guests with their elegant movements and splendid performances that will leave your guests with unforgettable memories, and your special event with a tantalizing atmospheric experience that will relax your guests with ease. A truly complimenting interactive entertainment experience for all ages.
If you are interested in booking our living statues street performers and human statues displays, contact any of our amazing and helpful Scarlett Entertainment team members who will answer all of your questions in regards to our themed statues, as well as guide you through our booking process to ensure you lock in your entertainment experience with ease.