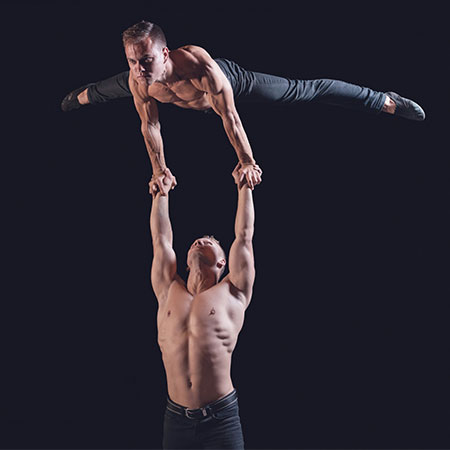 Male Hand Balancing Duo
The ultimate live stage entertainment for the whole family delivered by two extremely skilled male acrobats
An astounding display of superhuman strength, perfect balance and unfailing trust
Hand balance duo can customise their shows and create bespoke acrobatic balancing acts for your event
Hand balancing act perfect for cruise ship entertainment, galas, after dinner experiences, ceremonies, etc.
This Male Hand Balancing Duo is available for bookings in Ukraine and all over the world
An incredible display of superhuman strength, coordination and trust, this Male Hand Balancing Duo's routines are spectacle that you can't afford to miss.
Specialists in keeping audiences mesmerised, this hand balance duo's dynamic choreographies and incredible stunts always leave spectators speechless. Able to adapt to different performance spaces, our circus artists can create bespoke performances especially for your event.
Offering enthralling live stage entertainment, our hand balance duo delivers a spectacle that audiences will never forget. Combining incredible acrobatics with dance and perfect balance, these circus performers always cause jaws to drop with their impassive acrobatic balancing act.
Having performed for both small and large audiences all across Europe, our acrobats can combine their expertise and creativity to come up with original ideas for bespoke shows. Happy to wear costumes of your choice, they can also create routines with music of your choice and with any ideas you have in mind.
Taking partnership to the next level, our hand balance duo create memorable experiences for viewers. A perfect hand balancing act for cruise lines, this hand balance duo has something to suit and wow everyone, even the most demanding audiences!
A popular cruise ship entertainment option, this acrobatic balancing act is also suitable for after dinner experiences, galas, ceremonies and many other special occasions. Loved by both children and grownups, this duo's hand balancing act is an entertainment option that can be enjoyed by the whole family!
Scarlett Entertainment offers a divers range of cuisse ship entertainment options in Ukraine and all over the world.
Contact us today and enquire about our Male Hand Balancing Duo. Our in-house team of Entertainment Experts will be more than happy to provide further details on this acrobatic balancing act and guide you through the booking process.