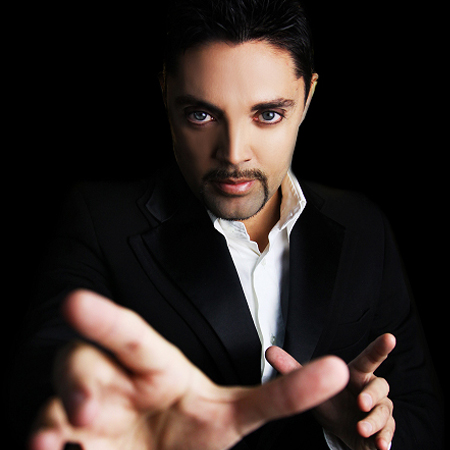 Mentalist Luca
Two times winner of the prestigious Merlin Award Mentalist of the Year Europe and Winner of the Nostradamus Award for Best European Mentalist
Offers a range of customisable stage shows, close up magic and corporate performances
A brand new luxury show is the first exclusive mentalist performance to mix magic with cuisine and make the audience the stars
Previous clients include BMW, Westin Hotels, Ferrero, Telecom, Hilton and many more
Based in Naples and London, available to perform at events worldwide
Rarely will you find a form of entertainment that has such broad appeal and it is even harder to find an artist that guarantees to deliver fun and interesting shows.
Luca is without a doubt one of the most valued Mentalists in the world. Twice the winner of the prestigious Merlin Award "Mentalist of the Year Europe" and Nostradamus Award for "Best European Magician", he is also a member of the Magic Circle in London with the degree of A.I.M.C. with Silver Star (highest recognition for his live show), he has performed all around the world for top corporate companies such as Hilton, BMW, Endemol and many others. High profile business personalities and celebrities have chosen Luca to perform for their private parties on board luxurious yatches situated in wonderful places like Portofino, Capri and the French Riviera.
In the past several years, over one million passengers have been entertained by Mentalist Luca's incredible live shows onboard luxury cruise liners that include Princess Cruises, Royal Caribbean International and Celebrity Cruises. Luca and his staff are ready to make your special event unique and unforgettable. All his mentalism shows can be fully customised. This talented and creative mentalist can translate your ideas or brand message into mind-blowing mentalism tricks and leave everybody wide-eyed with his bespoke performances and large-scale tricks. Luca is also a consultant and is willing to closely work with clients to create unique interventions. Besides all the above-mentioned, he can also produce custom branded fits to push brand messages and principles.
From 10 to 10,000 people, his show will guarantee you the perfect entertainment for your guests. Luca can present up to two hours of fascinating mental experiments with his show "IN MY MIND". His shows are an unforgettable experience combining memory techniques, psychological subtleties and body language to give the impression that Luca as a sixth sense. As creator and producer of the show, you can be assured that each and every number is new and original. The show is available in different formats and durations depending on the needs of your clients. It can be customized to the needs of the event, thus creating a special, personalized effect. For international clients the show is available in fluent English, Italian and Spanish.
'In My Mind' is a unique live show that always leave audiences wondering 'how is this possible?' as he impossibly bends metal objects with just the power of his mind and makes incredible predictions. Luca also involves in the audiences in a mind game that will reveal who is telling the truth and who isn't! In this show Luca is also joined on stage by Rebecca who pays homage to the first female mentalist Anna Eva Fay by recreating her famous effect 'The Spirit Cabinet'. This is a wow factor show that always leaves audiences completely amazed.
Luca is a corporate event mentalist highly requested events around the world. Mentalism is a relatively new and fresh form of entertainment that many people will never have experienced live before. Unique and impressive, mentalism incorporates truly incredible effects that will leave audiences utterly confounded creating a memorable experience that ensures that your event is talked about long after it is over. Luca can also incorporate company logos and messages into his shows in any number of inventive and creative ways to ensure that clients get talking about and remember your company.
The art of entertaining displayed through fascinating close-up magic and delivered with pure Italian elegance and style. Luca's high-class close-up magic service is ideal for all occasions and types of events, from small intimate gatherings to large corporate functions. Luca delivers with extreme professionalism and sensitivity, ensuring that the customer receives only the very best entertainment. On top of that, he can offer a more personalised service with up to 121 individual mind reading sessions per event. Suitable for a variety of settings including table, strolling and reception.
A show where you are the leading star, our mentalist combines mind-reading, interprets body language and shows you how it is possible to go beyond your limits and do the impossible! All accompanied by creative cuisine and the best wines and champagne chosen by sommeliers, this is an exclusive and luxury experience not to be missed.
Contact us today to book close up magic for your event
" A sharp mentalism performance with brilliant motivational hints. The show of Luca was a great element of the 'Recoding Perception through Magic conference'! "

Antonia SymeonidouDirector - Academy of Magic & Science
" Luca is a superb entertainer. He is professional in everything he does. He is innovative, and creates many of his own effects. I recommend Luca unreservedly. "

Richard WebsterOwner, Brookfield Press
" His outstanding reputation proceeds him. Just a moment in person or with his clips will prove why. A nice guy too. "

Marc SalemPresident at Salem Inc.
" Luca is an outstanding mentalist, illusionist, and entertainer. He is a top notch entertainer who can most definitely provide the entertainment value you are looking for! When you are looking to make your event memorable, consider Luca and you will be glad you did! "

Jim StottPresident at Bayview Properties, LLC
" I hired Luca for our Magic Convention at our Magic Club, CPH MAGIC, and learned to know Luca as a pro in our field which is magic and entertainment. The participants at the convention said that the lecture and show with Luca was worth the entire admission fee. "

Michael FrederiksenOwner, CasinoMagic.dk and Trylle-Michael.dk
" Luca is an amazing mentalist, his performances are quite mysterious surprising and entertaining, he has great charisma and shining showmanship, I highly recommend his performance. "

Uri Geller