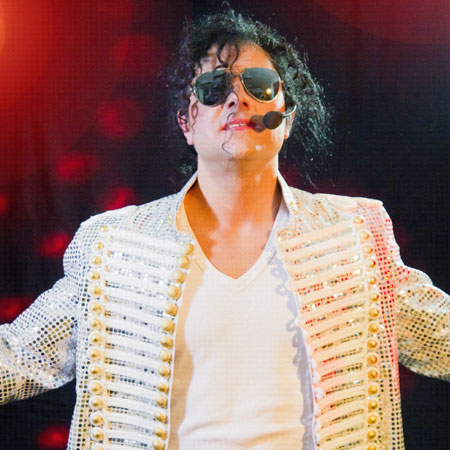 Michael Jackson Performer
Enjoy a thrilling tribute to "The King of Pop" in this high impact tribute dance show
An MJ connoisseur through & through, our Michael Jackson tribute has closely studied all of his idol's moves to perfectly replicate them
With a soundtrack of Jackson's greatest hits like Billy Jean and Beat It, our MJ impersonator brings the atmosphere of a real MJ concert to events
Incorporating authentic costumes, professional lighting & pyrotechnics, our MJ tribute will give you a show worth remembering
Book Michael Jackson Performer for events in Dresden & internationally
Michael Jackson Performer PHOTOS
Specialising in the world's best entertainment, booking agency Scarlett Entertainment is proud to represent some of the most exciting live shows in the industry. From cabaret and dance to tributes and musical acts, our variety of after dinner entertainment shows offer something to satisfy every guest's tastes or interests. Lovers of 'The King of Pop' will not be disappointed by this thrilling tribute dance show. A fully trained professional dancer, our Michael Jackson Performer has created an MJ tribute show to get all of your guests doing the moonwalk. Paying homage to pop music's most iconic contributor, our MJ impersonator has perfected the precise movements of Jackson on the dance floor. Whether you are MJ's biggest fan or simply love a good sing along to Billie Jean, our Michael Jackson tribute has a treat in store for you!
Captured by MJ's "Dangerous" tour in the '90s, our MJ tribute became obsessed with perfecting the dance moves of the legendary superstar. Still hooked on the King of Pop, our impersonator considers his act to be even more significant as a way of remembering and celebrating the life of Jackson following his tragic passing in 2009. Performing authentic choreography to all of MJ's best loved hits like Beat It, Smooth Criminal, Man in the Mirror and Back or White, our Michael Jackson tribute looks exactly like the real deal as he confidently struts his stuff on stage.
Featuring high quality lighting, replica costumes and even amazing pyrotechnics, our superb MJ impersonator brings an abundance of energy and pizzazz to every dynamic live show. The ideal addition to festivals, galas, corporate dinners and parties, this tribute dance show will mesmerise you guests as it takes them on a whirlwind journey through the sparkling repertoire of the most popular singer of all time. Having performed for numerous high profile clients and events, expect a polished show and lots of interaction from our exceptional tribute performer. 
To find out more about booking Michael Jackson Performer for your event, don't hesitate to contact our team at Scarlett Entertainment today.
" You had us with your Michael Jackson show honour to our wedding. To make it short and sweet I will say it was absolutely amazing! There were moments that I will never forget. It was a very, very good decision to book you and maybe someday silver wedding again :-) "

Ron Hofmann