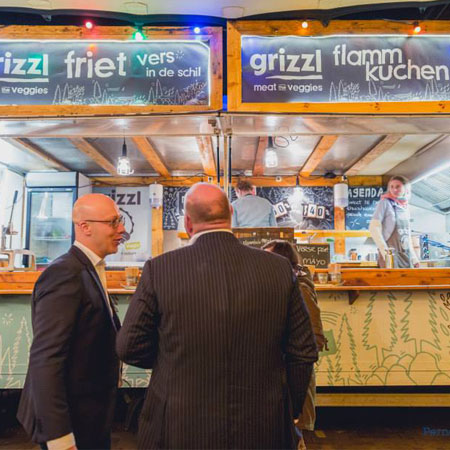 Mobile Food Outlet Amsterdam
A mobile food outlet serving meat and vegetarian dishes
Our Amsterdam food truck can create bespoke menus for your event
Fresh and fast street food can be served at weddings, private parties, corporate events and festivals
Mobile event food for up to 300 guests
Event caterer based in Amsterdam, but able to travel to events throughout the Netherlands
Mobile Food Outlet Amsterdam PHOTOS
Our mobile food outlet in Amsterdam is available for private parties, corporate events, weddings and festivals throughout the Netherlands. Serving a delicious assortment of street food, our Amsterdam food truck caters for meat eaters and vegetarians. Bespoke menus can be created to suit your event and can be themed if wanted. 
This popular mobile event food provider is always popular and festivals and outdoor events; the Amsterdam food truck is easily transportable and has a quick set up. Requiring a space of 10m x 3m and height clearance of 3m, the mobile event food truck is made from recycled wood and featured hand paintings. 
As a mobile event caterer, street food is served quickly but unlike fast food, the menu is made with high quality ingredients, with flavour being the biggest focus for our Amsterdam food truck. The menu is easily tailored, but popular dishes and snacks include: Burgers, croquettes, spring rolls, toasties, fries and tartes.  
The menu from our mobile food outlet always has a vegetarian option for each meat based meal or snack, ensuring all tastes are catered for. Our Netherlands based event caterer can also theme their menus to suit different events or seasons. Whether you're hosting a christmas party, or a summer party, food options can be tailored to suit your guests and theme.
Our street food serving Amsterdam food truck is perfect for pop-up events or outdoor celebrations. As a mobile event food provider the logistics are simple, making this event caterer suitable for venues with no catering facilities or with limited setup time. 
Having attended a variety of outdoor festivals and markets across the Netherlands, our mobile food outlet is experienced in accommodating a large footfall of attendees, making them an ideal event caterer if you have a tight schedule. 
Mobile event food booking tips:
Street food catered for up to 300 people
Our Amsterdam food truck can create bespoke menus for different themes
Mobile event caterer with simple requirements and a quick setup
Vegetarian and meat street food 
For more information on our mobile food outlet get in touch with the Scarlett Entertainment and Events team on +44 (0)1626 572072, or online here.
If you'd like to view more Mobile Event Food Options, have a look at our Catering and Hospitality options.