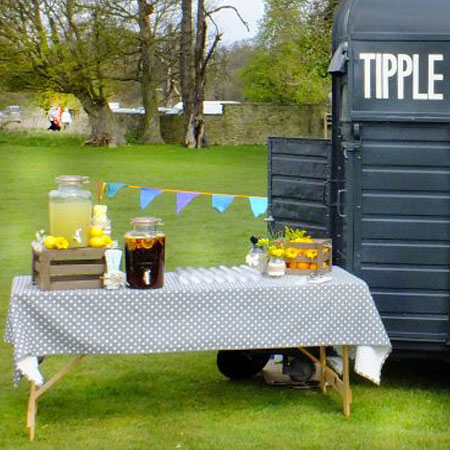 Mobile Horse Box Bar London
Exclusive mobile horse box bar brings thematic customised drinks to your chosen venue for a personalised event or private party
The very best in mobile event catering - treat your guests to drinks in their chosen theme or colours
A bespoke mobile bar to add an element of character & style to your special occasion
Request personalised miniatures with your chosen alcohol & company branding, delivering highest quality customised event drinks
A tailored service; feature your magnetic banners & logos on the trailer along with your personalised message displayed on the chalkboard
Mobile Horse Box Bar London PHOTOS
Our exclusive Mobile Horsebox Bar brings the perfect thematic customised drinks to your chosen venue, offering a diverse solution for mobile event catering. Treat your guests to incredible customised event drinks whilst adding character & style with our bespoke mobile bar.
Offer your guests a unique experience with our bespoke vintage mobile bar - a converted Rice Richardson horse trailer that looks great at any event or function. Beautifully restored and adapted to act as the perfect mobile bar, we offer three different draught pumps that can be used with any beer or cider along with a triple fridge to keep all our bottles and champagne chilled. Original customised event drinks are presented through a wide serving hatch with the opportunity for clients to request personalised miniatures with their chosen alcohol and company branding, delivering the highest quality of beverages for your occasion. 
A totally versatile and unique mobile catering bar concept, perfect for private and corporate events. We welcome companies to dress our horse trailer however they desire, incorporating a chosen theme. Why not brand the trailer with your business or product identity and promotional material? The trailer is made entirely out of metal so ideal for magnetic banners & logos, offering a completely tailored service, perfectly suited to companies and businesses for brand endorsement. The trailer also features a chalkboard flap attached to the hatch that can also be customised along with a large A-board chalkboard sign to write your personalised message.
A truly original bar-catering experience aimed to offer a completely customisable service for your event, whatever the occasion. We cater for parties both large and small - the aim being to offer our guests an impeccable tailored event service. Our incredible mobile horsebox bar offers a bespoke package for weddings, themed company incentive days and corporate events, with seasonal & themed drink menus delivering the highest quality  od customised drinks. 
Practical tips 
Our Mobile Horsebox Bar is completely customisable for your personalised event
Minimum catered for - 50 people
Maximum catered for - 500 people
Personalised miniatures with chosen alcohol & company branding available on request
Our Horse Box trailer is fully magnetic, allowing for company banners and logos to be attached
The Horse Box features an A board style chalkboard offering clients the opportunity to customise with their own personal message
Holding a corporate incentive party, gala dinner or corporate event in London?  Let our Events team help organise your event - we work with the very best event venues in London from unique event spaces to traditional British venues, large meeting spaces to VIP luxury party venues available to hire in the UK.  Our London DMC events team can organise amazing locally based entertainment, catering, decor and transport.
Contact us at Scarlett today to talk about booking our Mobile Horse Box Bar for your corporate team day or personalised event.