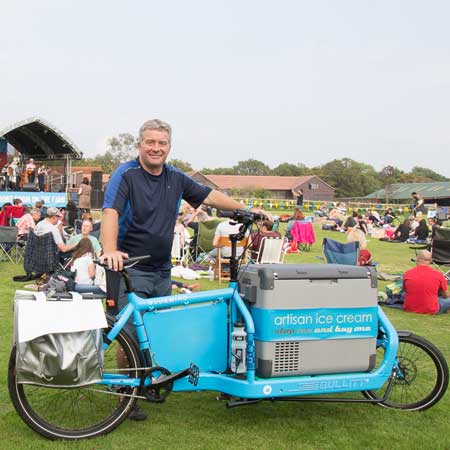 Mobile Ice Cream Bike UK
Ice cream bike can be customised and branded with company logos
A great form of wedding entertainment or event catering
A perfect surprise pick me up and corporate reward for employees
Our mobile event bike has a unique and modern look, a great alternative from traditional tricycles
Our ice cream bike for events can be booked throughout South East UK
Mobile Ice Cream Bike UK PHOTOS
Our modern and mobile event bike has a unique and contemporary design to it. A far cry from the traditional and bunting-clad ice cream tricycles that are often found at weddings and events. Our ice cream bike is a memorable form of wedding entertainment and will go down a treat on a hot day. 
If you're after a unique form of event catering, our mobile event bike is a great addition to any event or party. The ice cream bike is perfect for employers wanting a quick, surprise corporate reward for their staff. Book our mobile event bike to come to your office and treat your employees to a tasty tub of ice cream. 
The ice cream is made by hand at a dairy farm in Surrey, using the freshest of ingredients. The flavours available are:
Vanilla
Toffee Fudge
Strawberry
Mint Choc Chip
Chocolate
Honey & Ginger
Coconut
Raspberry
A fun and tasty form of wedding entertainment, the bike can serve up to 360 guests; however larger audiences can easily be accommodated if required. The ice cream bike also works really well at trade shows and conferences, a quick and tasty corporate reward that will leave a positive lasting impression.
Our mobile event bike is also a great event catering solution for events or parties being held in large outdoor spaces as it's easily mobile and can set up in tight spaces. With no electricity or water supply required a speedy set-up will prevent any logistical problems that can easily occur with other mobile catering options. 
The ice cream bike itself can be branded with a logo or company message, and the server can wear branded uniform if required. 
Booking Tips:
Great surprise wedding entertainment or unexpected corporate reward
Bike can be restocked (required close access to van) so large volume of guests can be catered for
Ice cream bike can be branded, perfect for corporate events or marketing activations 
Event catering with a quick and easy set up
Mobile event bike that can be set up indoors and outdoors
Serves up to 8 different flavours of locally produced dairy ice cream
Requires 3.5m x 2m of space
Bike is unable to use steps/stairs
Our modern ice cream bike is incredibly versatile, whether you're booking it as wedding entertainment or a sweet corporate reward, the bike is flexible to suit your needs.
For more information on the bike or for more event catering options, corporate rewards and wedding entertainment ideas, get in touch with the friendly Scarlett Entertainment and Events team who can guide you through the booking process.