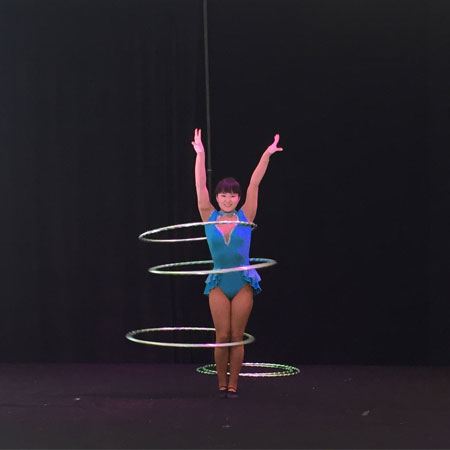 Mongolian Hula Hoopers
Professional hula hoopers and award winning circus performers and acrobats!
Highly skilled hula hoop artist can spin up to 7 hoops simultaneously
A range of different coloured and styled costumes are available to suit a range of event themes
Mongolian cirque artists can also perform contortion, aerial and hand balance
Mongolian Hula Hoopers are available to hire for events worldwide
Mongolian Hula Hoopers PHOTOS
Our Mongolian hula hoopers are considered amongst some of the best in the world. Offering up exciting circus performances, these professional hula hoopers are the perfect way to entertain international audiences of all ages. 
Up to five hula hoop artists are available to perform at any one time, all of them are award-winning artist who have performed for some of the world's most prestigious circuses - a huge testament to the high level of their professional skills. 
These highly skilled hula hoop artists can spin up to seven hoops simultaneously around their bodies at impressive speeds whilst performing jaw-dropping acts of contortion! All also highly trained in contortion, some of the moves they perform are rarely seen outside of Asia - a real treat for spectators. The standard of their skills, their poise and grace will leave audiences awe-struck!
Dynamic and high-energy, our professional hula hoopers' performances are set to a thrilling soundtrack and last between 6 and 8 minutes for the highest impact. 
Each performance can be customised to suit each individual event. There are a range of different coloured and styled costumes on offer for clients to choose from, and additional Mongolian acrobatic circus skills can be incorporated within their precisely choreographed performances to create an exciting variety show.  
Ideal for corporate events, awards ceremonies, gala dinners, cultural events and shopping malls, our hula hoping artists will be a hit with al audiences. 
This group of performers can also offer Banquine, Jump Rope, Contortion and Acro Foot Juggling. 
Contact our Entertainment Coordinators to find out more about booking our Mongolian Hula Hoopers for your next event.