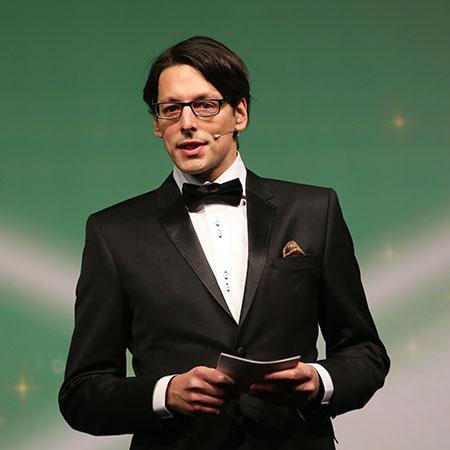 Multilingual Event Host London
Multilingual MC can fluently speak six languages; English, German, Italian, French, Spanish, Portuguese
This outstanding event host also provides voice-overs for commercials, corporate videos, films and video games
Over 15 years of experience as a language expert, hosting events for international audiences
Previous clients include Coca-Cola, Emirates, YouTube and Mercedes
Our multilingual event host London is available to hire in the UK and across the world
Multilingual Event Host London PHOTOS
Our Multilingual Event Host London enables everybody at your conference, corporate event or awards ceremony to understand everything that is being communicated on stage because he can speak fluently in six different languages; English, German, Italian, French, Spanish, Portuguese. New product launches and award ceremonies are regularly only hosted in one language, English. However, because most businesses now have an international workforce, the demand for a multilingual MC based is increasing. 
Our multilingual MC has over 15 years of experience and helps create a multicultural atmosphere at the events he hosts. What's great about our events host is that he brings an authentic feel when attending corporate events and other ceremonies through his natural ability to connect with an international audience through his use of language. 
This multilingual event host London has previously worked for with Coca-Cola, FIFA Football, Volvo and Walgreens Boots alliance all of which have left him exceptional recommendations. Our corporate events host is a perfect choice for product launches and conference events our presenter can also be hired as a voice-over artist and language consultant.
With an impeccable ear for foreign accents, our multilingual MC executes accentless delivery in all six languages for international audiences. Our international event host and voice-over artist has previously provided voice-overs for the following:
Can deliver multilingual events or voice-overs for:
Corporate events
Award ceremonies
Corporate training and educational videos
Radio and television commercials
Films
Language courses
City guides
Museum guides
Video games, cartoons and toys
Scarlett Entertainment offers a broad range of event hosts, speakers, multilingual MC's and voice-over artists who are available to hire across the globe for international audiences. 
If you would like to hire our multilingual event host London then, please do get in touch with the Scarlett Entertainment team who can also speak a range of languages to deal with your request confidently.
Airborne
Assassins Creed
Bacardi
Beck's
Blackberry
Carlsberg
Chiquita Bananas
Computer Associates
Deutsche Telekom
Dove for Men
Easyjet
End of Nations
Garmin
HSBC
Havana Club
Hugo Boss
IRobot Roomba
Ice Age 4: Continental Drift
Knorr
MAC Make-up
Mazda
Mercedes
Milka
Mucinex
Nicorette
Ocean Village Cruise
Peroni Nastro Azzurro
PlayStation Vita
Rexona
Sainsbury's
Save the Children
Secret Escapes
Splash! Ringtones
Stella Artois
The Darkness II
Total War: Rome 2
Tuc
VO5 Shampoo
Vodafone
Wrigley's Airwaves
X-Box Halo
YouTube
ABThera
American Express
BBC
Barclays
Ben X
Canon
Charmin
Coca-Cola
Dell
Diageo
Dulux
Emirates
FIFA Football
Gatorade
Happy Feet 2
Heinz
Hyundai
ITV Freesat
Jacobs
Lego Batman 2
Martini
McDonalds
Mexx
Monarch
Nespresso
O2
Oriflame
Philips Hue
Qatar Airlines
Ripstick Air
Samsung
Scottish Rugby Union
Sony Ericsson
Spotify
Tempo
Thomas the Tank Engine
Toyota Formula 1
UCI Kinowelt
Virgin Mobile
Walls Ice Cream
X-Box 360
X-Box Kinect
Zanussi
ACN