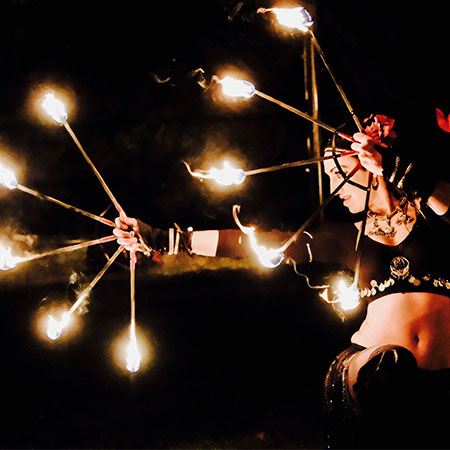 Mystic Fire Show
Fire dance performance combines elements of contemporary and oriental dance with fire tricks
Show tells the love story between a man and a woman and an evil spirit that haunts them
Performed by a fire dance troupe that use various props like fire fans and hoops to create incredible effects
Dancing with fire is ideal for street celebrations, outdoor events, weddings, private parties, etc.
This Mystic Fire Show is available for bookings in Ibiza and all over the world
If you're looking for a type of entertainment that looks especially stunning in the night, then this Mystic Fire Show is the perfect option for your event or special occasion.
Performed by a dynamic fire dance troupe, this group of artists adds mysticism and a touch of mystery to their performance by wearing some masks and gypsy costumes. Our mystical fire dancers use a variety of fire equipment and props to create incredible effects and bring light to the dark.
People at your street celebration or event with gather around this fire dance troupe and will be stunned by the beauty of their performance. A stunning combination of theatre, dance and fire tricks, this fire performance tells the love story between a man and a woman and an evil spirit that haunts them.
Our fire dance troupe performs choreographies that includes elements from contemporary and oriental dances and mixes them with fire elements. This creates a mystical and enigmatic atmosphere that will captivate spectators and that will leave lasting memories. An act that invites viewers to experience an endless stream of emotions, this fire dance show is an explosion of seduction and romance, anger and fight.
Loved by both children and adults alike, dancing with fire is a great entertainment option for a wide range of occasions, and it's especially suitable for street celebrations. This fire dance show is usually performed outdoors, but it can be adapted to indoor spaces. For greater visual impact, our mystical fire dancers recommend night performances.
Scarlett Entertainment offers a broad range of dancing with fire acts for events and occasions in Ibiza, Spain and all over the world.
Enquire about this Mystic Fire Show by contacting our in-house team of Entertainment Specialists today. They will be more than happy to answer all the questions you may have about this fire dance troupe and guide you through the booking process.