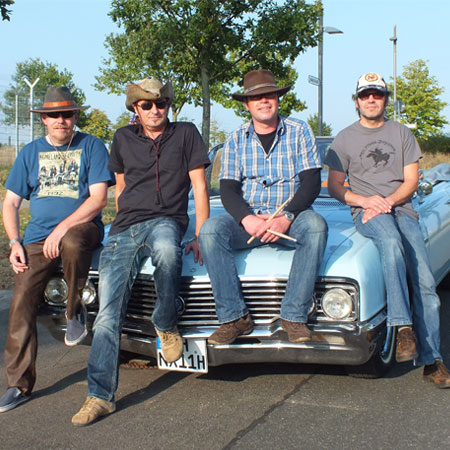 Neil Young Tribute Band
The ultimate Neil Young experience: authentic look, vocals & instruments
Cover Neil Young & his bands Crazy Horse, Buffalo Springfield & CSNY
Perform both acoustic & electric covers & are happy to learn new songs
Perfect for festivals, bars, private parties & corporate events
Based in Hannover, Germany & available to perform at events worldwide
Neil Young Tribute Band PHOTOS
This tribute act is the only European Neil Young tribute band to play both plugged and unplugged versions of his extensive repertoire.
Dedicated to replicating the look and sound of their idol they have adapted the same style, wearing the same t-shirts and play on similar instruments and equipment in order to recreate an authentic sound. Not only do they perform hits by the man himself, they also perform well-known songs from each of Neil Young's three bands: Crazy Horse, Buffalo Springfield and CSYN. Their repertoire largely comprises of songs from the albums 'Weld', 'Rust Never Sleeps' and 'Decade', with his quieter classic played as acoustic sets and his more upbeat songs as electric. The band are more than happy to change their set list, and learn new songs, to suit the tone of your event and your own musical taste.
This quartet really are the ultimate Neil Young experience, they have the look, the sound and the charisma. They are no strangers to playing in front of crowds large and small; they regularly perform at festivals and corporate and private events across Europe, playing to packed venues and sold out crowds. Their electric performances are sure to WOW guests at your event.
Cinnamon Girl
Cortez The Killer
Down By The River
Everybody knows - this is nowhere
Fuckin Up
Going home
Hey Hey My My
Like A Hurricane
Love And Only Love
Mansion On The Hill
Four Dead in Ohio
Pokahontas
Powderfinger
Rockin 'In The Free World
Roll Another Number
The losing end
Winter Long
Welfare Mother's
Words
Electric
Buffalo Springfield Again
Good To See You
Harvest Moon
Heart of Gold
Human Highway
Look Out For My Love
Mr. Soul
Old Man
Out on the Weekend
The Needle and The Damage Done
Unknown Legend
Acoustic