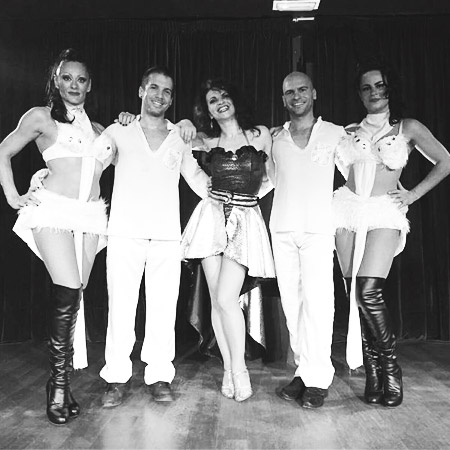 Oh lala Cabaret Night
A colourful spectacle that will embrace the viewers with its rhythms
Live orchestral music, spectacular choreography and evocative drama
Performed on tour in major theatres of different cities in Spain, Portugal
Composed of experienced musicians and young dancers of all nationalities
Based in Madrid & available to perform at events throughout Spain
Oh lala Cabaret Night PHOTOS
Oh lala Cabaret Night is a solid and colourful spectacle that will embrace the viewers with its rhythms. It is an extensive tour of grace, elegance and eloquence through a vast panorama of international culture from a contemporary view of Cabaret, without forgetting the legacy of this artistic tradition. 
Live orchestral music and maximum sound technical virtuosity, spectacular choreography and evocative drama that translates everyday stories of a group of young artists of Cabaret in a mixture of glamour, sensuality and passion filled with mystery.
The artistic cast of Oh lala Cabaret Night is composed of experienced musicians and young dancers of all nationalities with a solid classical and contemporary technique, all with a distinctive style and great stage presence, recreating a passionate fusion between different styles and roles and shining with its own light and captivating the viewer.
Its premiere took place on August 8, 2011 in Vitoria, Basque Country, getting a great reception from the public and critics. After the premiere it has been presented on tour in major Theatres of different cities in Spain and Portugal, such as Aranda de Duero, Murcia, Madrid, Ponte de Sor, Visseu, Lisbon, among many, ... Ohlala Cabaret Night is and will be a delightful dish wherever it is serve.