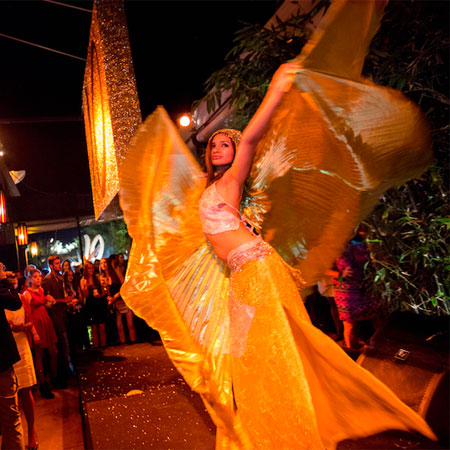 Oriental Ballet Dancers
Shimmering costumes & elegant choreography will WOW audiences
A beautiful tale told through Oriental ballet & acting
Featured characters: musicians, acrobats, snake charmer & more
Previous clients include: Renault, Sony, Nokia, Nestle, Wella...
Based in Morocco & available for events world-wide
Oriental Ballet Dancers PHOTOS
This beautiful Oriental ballet show will WOW audiences of all ages. Shimmering costumes, stunning backdrops and props, elegant choreography and a wide range of characters bring to life this fabulous show. Follow the lives of the calligrapher, the musicians, acrobats, the snake charmer, eunuchs, the henna woman, the water carrier and the monkey tamer through this magical performance.
This versatile Oriental show features a range of dances for clients so choose from:
Snake's Dance
Snake charmer and snake dancers inside baskets
Genuis Dance
Fire acrobatic dance with a cross, sticks, chains and gloves
Hammam
Fusion of oriental and contemporary dance with veils
Slaves Dance
Gnaoua inspired dance with percussion music
Scarves Dance
Ballet with collective movements using small scarves
Eshta, Sequins Dance
Baladi choreography danced to percussion
Peugeot
Volkswagen
Nestle
Wella
Marrakesh International Film Festival
And many more...
Renault
Sony
Nokia
Louis Vuitton
Pfizer
Thomas Cook
Vivendi