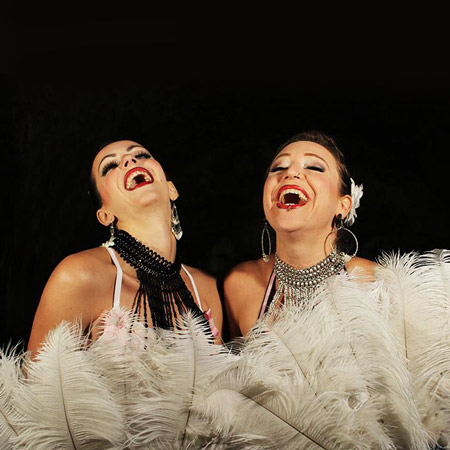 Paris Burlesque Duo
Tantalisingly teasing burlesque duo with multiple show options
As a well a classic and fire burlesque show they offer roaming performances and acts with live music
Can be booked as a burlesque show without any striptease elements
Seen at both London and Berlin burlesque festival and won 2nd place at the World Burlesque Games
Based in Paris and available for events worldwide
Paris Burlesque Duo PHOTOS
Our tantalising Paris Burlesque Duo will tease your guests with their tassels and totally amazing routines. This collaboration between two of Paris' most fabulous burlesque dancers is a fantastically naughty choice of entertainment to delight adult audiences the world over. 
The Paris Burlesque Duo have three pre-choreographed themed burlesque shows each with wonderful costumes, different routines and tailored to different event types. The first is an award-winning Egyptian themed fire burlesque show for which they can use light props instead of fire. The second is a French classic kinky show with a hat and cane dance. And finally, they offer a comedy themed burlesque show with a chair dance and bottom tassels that they twirl for the audience. 
As well as the classic and fire burlesque show, our Paris Burlesque Duo can be booked for roaming entertainment or to perform along to live bands or DJs. For slightly more sensitive audiences, the burlesque show can be booked to not include any of the striptease elements. 
The fabulous themed burlesque shows have been booked for events all over the world and seen at both the London and Berlin burlesque festivals. Our Parisian burlesque duo also won second place at the World Burlesque Games.
Whether you're looking for something a bit different like a fire burlesque show or a performance with a humorous twist and bottom tassels, you can count on these two dancers.
Top Tip:
If you only want one of the dancers please view the Paris Burlesque Show page.
To book the Paris Burlesque Duo, please get in contact with our team at Scarlett Entertainment. 
IDEA ARTICLES RELATED TO Paris Burlesque Duo