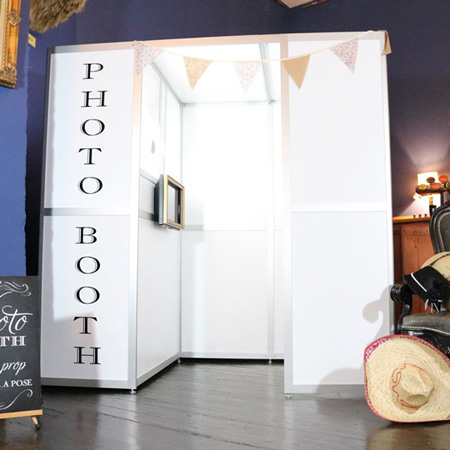 Photo Booth UK
Photo booth and props for you and your friends to have fun
Technician, large box of props, guestbook and booth provided
Suitable for covered outdoor events like summer marquee weddings
Digital versions of photos available for social media
UK-based band available for bookings worldwide
Book our great photo booth for a brilliant wedding idea. The photo booth hire enables your guests to create picture entertainment at their wackiest and take away a lasting memento of your event. It's a fun wedding idea and is suited to everything from corporate events to summer marquee parties. As interactive entertainment, guests can have as much fun as they want.
The hire also provides a guestbook pre-made to fit print outs from the booth inside as well as messages from the guests. This is perfect for birthday parties and weddings, as both guests and hosts are able to enjoy the picture entertainment.
A box of extensive props and tidbits of costume are offered alongside the booth so you and your pals can dress up with silly, groan-inducing joke faces. This interactive entertainment goes down a treat with audiences of any age. The booth is spacious to allow more people in than the standard airport variety so everyone with their sombreros and Groucho masks can fit in. 
Digital versions of photos can be provided via email, so not only can you take a hard copy to have in your wallet window but you can share your hilarity over social media. The photos can be emailed to family around the world who, if it is a wedding perhaps might have been unable to be there in person. The physical photos print instantly, so you can also have a second stab at getting that perfectly ridiculous shot.
Two photo booth hire options are available: a selfie wall for smaller venues to include the natural background of your venue, or the full blown booth for bigger parties. Both have their advantages - the decision rests on how well-behaved you think your guests will be.
To book our photo booth, contact our dedicated entertainment specialists today.