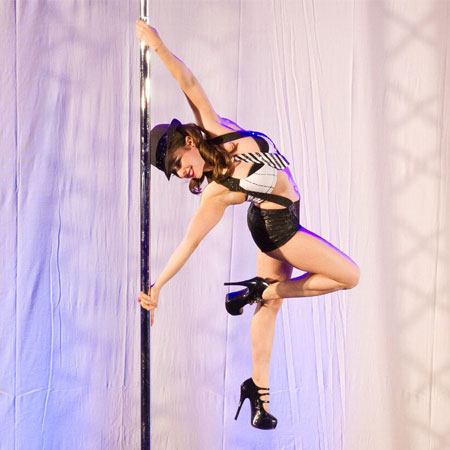 Pole Dancer Kerri-Ann
Pole Dancer who displays a series of extraordinary gravity-defying poses
A beautiful acrobatic dance show that is reminiscent of Cirque du Soleil
Showcases superior physical athleticism alongside incredible technique
Provides exquisite entertainment at festivals, fashion shows and openings
Based in Las Vegas and available to perform at events worldwide
Pole Dancer Kerri-Ann displays a series of extraordinary gravity-defying poses, in a breathtakingly acrobatic routine that is reminiscent of Cirque du Soleil style performances.
Combining elements of pole dancing with burlesque dance, she demonstrates sensual performances that incorporate gymnastics, acrobatics, art and body language. With great passion and determination Kerri-Ann showcases superior physical athleticism alongside exquisite technique and femininity. She is a modern showgirl and inspirational pole dance performer!
Performing versatile, elegant and graceful pole dance performances for a wide range of events, Kerri-Ann provides exquisite entertainment at festivals, fashion shows, openings, promotions, concerts and any event you want to give a modern twist.
A modern pole dancer could be just what your event is looking for, contact us today for more information on booking Kerri-Ann exclusively for your event.