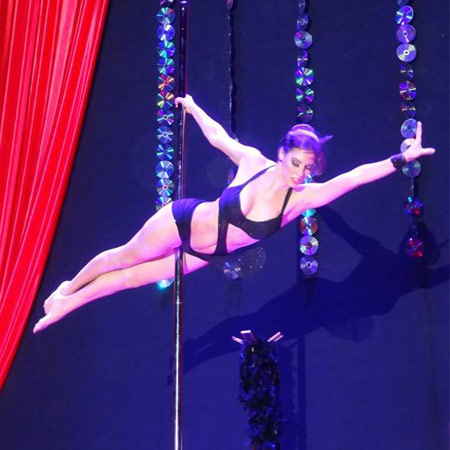 Pole Dancers Barcelona
Professional pole dancer who came 3rd in the Pole Sport Championship II
Combine sensual dance with gymnastics, acrobatics, art and body language
Perform versatile, elegant and graceful pole dances for events
Length and style of performances can be tailored to suit client's needs
Based in Barcelona and available to perform at events worldwide
Pole Dancers Barcelona are based in an exclusive private academy founded by a professional pole dancer Tania, who has over 5 years experience, holds the title to pole fitness instructor and came third in the Pole Sport Championship II of Spain professional category A.
The academy is a place designed for the modern woman, where they can learn how to pole dance in a comfortable, private environment and where their more feminine side can develop and enhance their self-esteem.
The professional dancers perform elegant and graceful pole dances, which require significant core strength, flexibility and endurance.
The Pole Dancers based here cover classes and event performances combining sensual and feminine dance with gymnastics, acrobatic dance, art and body language.
They perform for various events, from festivals, fashion shows, openings, promotions, concerts, any event you want to give a modern twist, either a little sexy or sporty, they are very versatile.