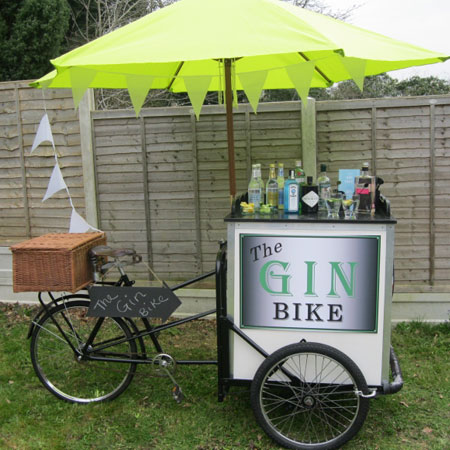 Pop-up Gin Bike UK
Surprise your guests with our custom-made Pop-up Gin Bike for a bespoke event to leave a lasting impression
Ensure your event catering stands apart with decorate props that are tailored to the occasion
Our fabulous gin bike is perfect for weddings, parties, corporate events and exclusive celebrations
Quality gins and specialist mixers served from our 1940s Pashley Bike, perfect for indoor and outdoor events
A pop-up bar will offer a thematic focal point for unforgettable customised entertainment in the UK
Pop-up Gin Bike UK PHOTOS
Ensure your event catering leaves a lasting impression with a show-stopping pop-up bar! Our fabulous gin bike-bar delivers the perfect decorative prop for a memorable bespoke event. 
Celebrate the flavour of gin by enjoying the quintessentially British drink with our Pop-up Gin Bike.
We will travel to your venue of choice and surprise your guests with our custom-made Pop-up Gin Bike for a bespoke event to leave a lasting impression.
Whether it be a wedding, party, festival or exclusive event, your guests will be provided with refreshing gin-based drinks from our fully equipped 1940s Pashley Bike. Inside or outdoors, rain or shine, nothing beats a gin and tonic from our pop up bike bar!
Ensure your event catering stands apart with decorative props that are tailored to the occasion. Our striking gin bike is perfect for weddings, parties, corporate events and exclusive celebrations, providing endless photo opportunities for everyone to enjoy. 
Your guests will be able to choose from our bespoke menu of handpicked quality gins and specialist mixers. We only serve spirits from the finest distillers such as Hendricks and Sipsmith. For something that little bit extra special, we're happy to customise your cocktails and drinks, offering a completely personalised experience. 
We can also provide a popular Gin and Fizz wedding package, adding either Champagne or Prosecco to the list of drinks we serve from our Gin Bike. 
So why not delight your party with a pop-up bar and offer a thematic focal point for unforgettable customised entertainment in the UK?
Practical Tips 
Delivery and set up of pop up bar
Bespoke menu featuring quality gins and specialist mixers from Fever Tree and Schweppes
Finest gins including Hendricks, Sipsmith, Tanquarary, Bombay Sapphire and Pinkster 
Customisation of drinks available on request
Event Catering covering London, Kent and Suffolk with scope to travel further afield if the order/hire is large enough
Contact us at Scarlett Entertainment & Events today to talk about booking our Pop-up Gin Bike for your corporate team day or personalised event.