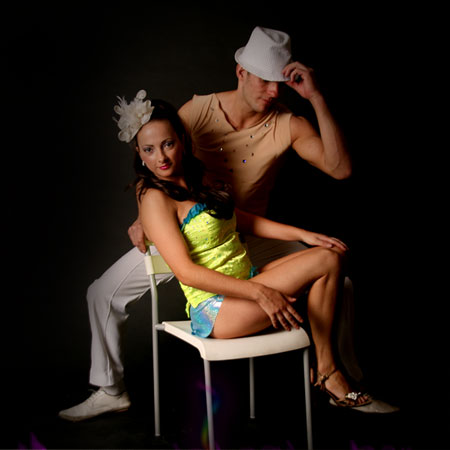 Quick Change Act
Quick change duo - a mix of magic, dance & split second costume changes
Toured India, Tunisia, Egypt, Germany, Slovakia, Holland, Hungary, UK
Can perform a Dick Tracy & Madonna gangster style show
Performed for blue chip companies including Unilever & MTV
Based in Budapest & available to perform at events worldwide
Quick Change is the unique art of instant costume transformations from one style and colour of costume to another!!  The transformation looks very magical as the change happens with little or no cover. Jonhson and Nicole are highly regarded as experts in this field of transformation.
You will be amazed in just 8 minutes you will witness (seamlessly fused together with choreography) 12 very quick costume changes with spectacular magic, special effects, dance and illusion.  The music has been carefully selected and cleverly edited to appeal to all ages.
Their Quick Change act has literally taken Jonhson and Nicole across the globe, performing for major blue chip companies including Unilever & MTV and has earned them many industry accolades.