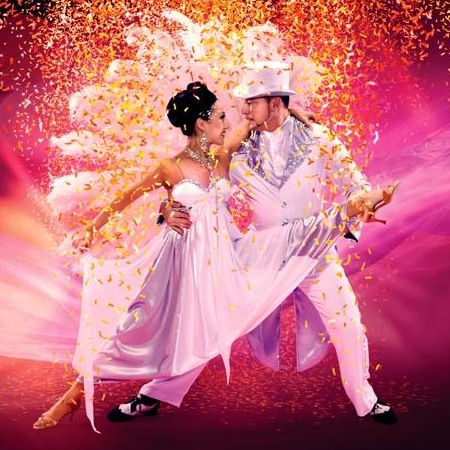 Quick Change Duo Australia
Very popular quick costume change act, finalist of Australia's Got Talent
Combined mind-boggling quick change act & spectacular dance artistry
Performed in famous theatres in Las Vegas and London's West End
Previous clients include Lexus, Vodafone, Formula 1, Mercedes Benz...
Based in Australia and available to perform at events worldwide
Quick Change Duo Australia PHOTOS
Quick Change Duo Australia are Latin American & Ballroom Dance Sport professionals. Trained in the United Kingdom and based in Brisbane, they have represented Australia together on the competitive Dance Sport circuit since 1996.  They are the only professional Dance Sport couple in the world who have successfully merged the two amazing art forms of Dance and magical quick change costume transformations into a spectacular production.
Becoming an instant hit after their performance at the Australia's Got Talent, this one of a kind duo has travelled the world mesmerizing audiences far and wide with their mind-boggling quick change act and spectacular dance artistry. They have performed in famous theatres around the world and are frequent guests in Las Vegas and London's West End. This fascinating duo have truly become international magic and dance stars. They are also regular entertainment fixtures of the world's largest ocean liners such as the famous Queen Mary 2, Royal Caribbean International, and Holland America Lines.
Among their long list of high profile clients include Mercedes Benz, Lexus, Toyota, Audi, The ASEAN, Formula 1 and many more. Quick Change Duo Australia have captivated the hearts and minds of international audiences.
BHP Billiton
HSBC
Australian Institute of Management
Australian Automobile Association
ACCOR (Berlin Los Angeles Beijing)
Conrad Treasury (Brisbane)
NSW Tourism Awards
Crown Casino (Perth & Melbourne)
Melbourne Convention & Exhibition Bureau (promoting Victoria to India & China)
Optus
Seimens
Blackberry
Mercedes Benz
Mazda
Hewlett Packard
QLD Government
WA Telethon Channel 7 Australia (2012)
Today Tonight Channel 7 Australia (2012)
Australia's Got Talent Grand Finalists Season 6 Channel 7 Australia (2012)
Featured in the Top 10 'World's Greatest Magic Acts' Bio Channel Foxtel Global (2010)
The Shak Channel 9 Australia (2009)
World Latin Dancesport Championships Channel 7 & Foxtel Global (2008)
A Tribute To Siegfried & Roy Foxtel Global (2008)
NBC Las Vegas USA (2008)
Radio KLAV 'Amy Jo Corner for Success' Las Vegas USA (2008)
Australia's Got Talent Grand Finalists Season 1 Channel 7 Australia (2007)
CNN - International Business Traveler UK (2004)
Good Morning Sacramento USA (2000)
World Mining Forum
UBS
Commonwealth Bank of Australia
Australian National Retail Association
Australian Tourism Exchange
Conrad Jupiters (Gold Coast)
Intercontinental (Bangkok)
Suncity Casino (Darwin)
Marina Bay Sands (Singapore)
Formula 1- Singapore Grand Prix 2012
Vodafone
Samsung
Lexus
Audi
Toyota
ASEAN
ITTEQ – Nippon TV Japan (2012)
Asia Football Cup Logo Launch (2012)
Sunrise Channel 7 Australia (2012)
Australia's Got Amazing Talent Channel 7 Australia (2011)
WA Telethon Channel 7 Australia (2009)
Mornings with Kerri-Ann Channel 9 Australia (2009)
WA Telethon Channel 7 Australia (2008)
Heinz 'Transformation' TV Commercial Australia (2008)
Lunchtime with Ira Las Vegas USA (2008)
Australian Dancesport Championships Channel 7 Australia (2007)
2006 NRA Australian Fashion Design Awards Channel 9 Australia (2006)
Australian Film Festival Awards Australia (2001)
Australian Industry & Export Awards 2008