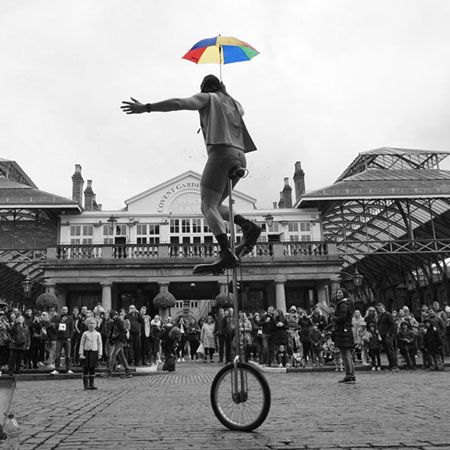 Roaming Comedy Entertainer UK
Make your event an unforgettable experience with our roaming comedy entertainer; sure to have your guests in hysterics with his comedic mayhem!
A brilliant and professional entertainer uses skill and imagination to create laugh out loud scenes with a combination of stunts and stand-up comedy
A dynamic and playful character that will capture the attention and pleasantly amuse audiences of all ages
He creates a fantastic atmosphere for small and large scale events with brilliantly innovative and hilarious performances
Perfect for festivals, stage shows, cabaret, private parties, corporate events and much more! He is available throughout the UK and Worldwide
Roaming Comedy Entertainer UK PHOTOS
 You can expect a variety of skills incorporated into our roaming comedy entertainer's dynamic performances, such as juggling, slapstick, improv and gravity-defying stunts, with plenty of clowning around and audience engagement.
Our roaming comedy entertainer has been performing throughout London since 1987. Regularly appearing on the London Alternative and later the National Stand-Up Comedy circuit, headlining at all the popular comedy clubs in London and appearing at Jongleurs and The Comedy Store, just to name a couple. Since then he has performed at well-known theatres including; The National Theatre and the Theatre Royal, at many events, such as large scale festivals, including Glastonbury and Reading, resorts and amusement parks, as well as, throughout Europe, the USA, the Caribbean and the Far East.
An unforgettable and highly entertaining act available to book throughout the UK and Worldwide!
" I was in London, walking around Covent Garden and I came upon this group of 300 people watching this clown with a unicycle. Only the last 10 minutes involved the unicycle, the other 30 minutes was him just improvising and doing stand-up. I invited him to Budapest for a casting. We only needed half an hour, he was so convincing and easy to work with. "

Szabolcs Hajdu (Hungarian Director)
" Mayhem!! A very good act "

Time Out Magazine
" Emotionally Authentic! "

Variety Magazine
" Just so very, very funny! "

Emma Thomson DBE