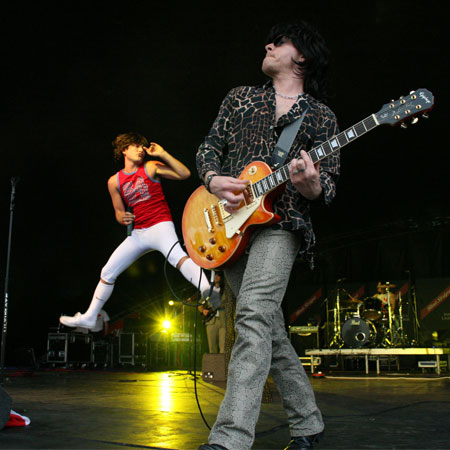 Rolling Stones Tribute
Recreate the look, sound, energy and atmosphere of the Rolling Stones
Popular with festivals, weddings, universities and corporate functions
Previous Clients - The Sun, Belfry Golf Club, Twickenham's Rose Room
Featured on Chris Evans BBC Radio 2 programme and FranceTVSport
Based in the UK & available to perform at events worldwide
Rolling Stones Tribute VIDEOS
Rolling Stones Tribute PHOTOS
This Rolling Stones Tribute was formed in 1998 whilst training at one of London's top drama colleges; Mountview Theatre School and have performed in such West End musicals as Buddy and Return to the Forbidden Planet and Three Steps to Heaven. Since then they have worked hard to establish themselves as one of the UK's leading tribute acts and have over the years they have played venues, festivals, weddings, party's universities and corporate functions throughout the UK.
The Stones Tribute band authentically recreate the look (with exact replica costumes and instruments), sound, energy and atmosphere of the Stones seminal live gigs, celebrating all that has made them legendary! The Rock n Roll Circus, Free Gig at Hyde Park and the Get Yer Ya Yas Out tour along with live recordings such as Got Live If You Want It, Flashpoint and Voodoo Lounge have become the inspiration for the look and sound of the band.
It is a celebration of all that has made the Rolling Stones legendary. Mick's pout, Keith's riffs and Bill's stony face are all on show as the band play some of the greatest songs ever written including Brown Sugar, Jumpin' Jack Flash, Paint it Black and Sympathy for the Devil. And, of course, Satisfaction is guaranteed!
Previous clients include The Sun Newspaper, The Belfry Golf Club, The Bedford River Festival, plus Twickenham's Rose Room playing with Art Wood, Geno Washington & The Yardbirds. They have also been featured on Chris Evans BBC Radio 2 programme and FranceTVSport as part of the Olympic celebrations with Jimmy Cliff.
Angie
All Over Now
Brown Sugar
Dead Flowers
Gimme Shelter
Get Off Of My Cloud
Honky Tonk Women
I Just Wanna Make Love To You
I Wanna Be Your Man
Im Free
Its Only Rock N Roll
Jumping Jack Flash
Last Time
Lets Spend The Night Together
Like A Rolling Stone
19th Nervous Breakdown
Miss You
Not Fade Away
Paint It Black
Ruby Tuesday
Satisfaction
Spider And The Fly
Start Me Up
Stoned
Street Fighting Man
Sympathy For The Devil
Tumbling Dice
Under My Thumb
Wild Horses
You Cant Always Get What You Want
And Many More!
Midnight Rambler
Kingsbridge Festival
Yorkies Biker Rally
Harper Adams Agricultural College Freshers Ball
Countless Weddings & Birthday Parties
Rolling Stones 2004 Forty Licks Tour
Loxwood Beer Festival
Felsted School Sixth Form Ball
John Stevenson's Benefit Night
And Many More!
The Sun
" Quite simply the best tribute band on planet rock. These boys not only play the music, they also live the lifestyle. "

The Sun
" …They're a real laugh… this one's a blast! "

The Daily Mail
" The Rolling Stones Tribute have re-created the sound and style of The Stones in their first great phase...this is an authentic live performance of some of the 20th Century's most memorable songs. "

Edinburgh Festival Guide
" ...this was rip-roaring entertainment...damned good fun "

Three Weeks
" The Band from our first contact were professional, friendly and approachable. They took our parents party back to 1964 by replicating the costumes,sound and live set of their first date. The whole room was up dancing, the smile on our parents faces said it all! When Mick Jagger sang..."Do you want to hear some more"? The answer from all our guests was "YES YES"!!! Thank you to all the band for making our parents party a night to remember they really thought they were back in the Wilton Hall! "

Tammy Furneaux, 40th Wedding & 60th Birthday
" All the swagger of Jagger. This Rolling Stones Tribute are a gas gas gas! "

BBC Three Counties Radio