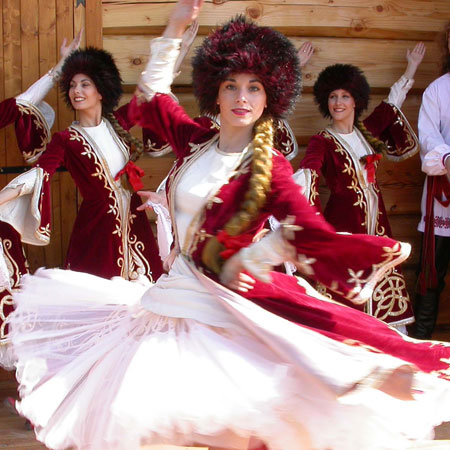 Russian Show
Russian folk group and dance show featuring up to 21 cast members
Featuring Russian ballet, Cossack dance, Gypsy music, Slavic music.
Each musician has graduated from the highest music conservatories
Beautiful authentic costumes providing a visual spectacle
Based nr Lyon and available to perform across France & Worldwide
One of the top traditional Russian folk groups in France is now available to book through Scarlett Entertainment. With their authentic costumes, dance and songs, this amazing show brings Russian and East European culture and folk music to life.
The 21 members of 'The Russian Ensemble' are a mixture of professional dancers, singers, musicians and entertainers who perform a show dedicated to Russian and Eastern European folk traditions.
The Russian Ensemble is available with any number of performers, depending on client requirement or venue size.
This energetic and truly entertaining show has performed shows across Europe and internationally and is an ideal choice for launch parties, corporate functions, private parties or festivals.
Gypsy
Songs including:
Kalinka
Dark Eyes
Time of Flowers
Russian
Folk music
East of Europe Traditional
Local Miss France show
Total
Vichy Opera
Lyon Concert Hall
Bordeaux
Strasbourg
Belgium
Italy…
Town councils
Casinos
European Show in Strasbourg
St-Etienne
many more in Paris
Toulouse
Swiss
Morocco
Theaters