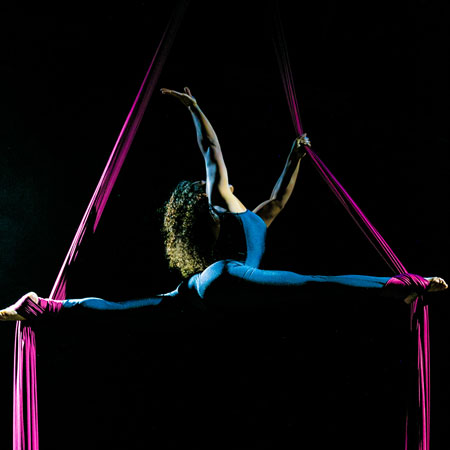 Silk Aerialist Las Vegas
Highly trained gymnast and female acrobat will WOW audiences with her silk aerialist performance
Our beautiful aerial dancer is perfect for corporate events, after dinner entertainment and any occasion where the WOW factor is desired
A demonstration of sheer strength, flexibility and grace our circus performer dances in mid air whilst performing daring moves
Previous clients include, Nickelodeon, BET Awards, Arbonne and many more
Based in Las Vegas and available for worldwide bookings
Scarlett Entertainment's breath taking female acrobat and gymnast WOWs audiences with her silk aerialist performance as our aerial dancer glides through the air showcasing her sheer strength, flexibility and grace. Our circus performer is truly stunning and will guarantee to provide an added dimension to your event.
Our gymnast and aerial dancer has featured on live television with acclaimed recording artists as well as touring internationally. An act that is both dynamic and powerful, our extremely talented aerial dancer performs breath taking drops, beautiful shapes and impressive amounts of flexibility as she contorts her body in mid air! Perfect for corporate events, after dinner entertainment and any occasion where the WOW factor is desired. The music our circus performer dances to is contemporary and entertaining however, our female acrobat can adapt her music to suit your vision and create a more customised performance to match your event perfectly.
A fusion of elegance and power this dynamic and sensual silk aerialist is a true professional as she performs daring moves to get the audiences' hearts racing, contrasting that with delicate moments of intricate dance that is visually stunning and a pleasure to watch. Previous clients include, Nickelodeon, BET Awards, Arbonne, AIDA, Wynn Las Vegas and many more. 
The colour of the silks and costumes can also be changed to compliment the colour scheme of your event and can provide a personable addition to make your event that extra bit special. Scarlett Entertainment's gymnast and circus performer provides the ultimate event entertainment that is daring, exciting, elegant and tremendously impressive that will guarentee to get your guests talking about your event even after it has happened!
Not only does our aerial dancer perform as a silk aerialist but our highly trained female acrobat and gymnast can perform routines with an aerial pole, duo hoop and duo rope for a wonderully versatile entertainment act.
To book our stunning Silk Aerialist or for more information please contact our Entertainment Specialists or to see more acts from our talented acrobat visit her Duo Hoop, Aerial Pole and Duo Rope pages. 
Anaheim Convention Center
Franco Dragone Entertainment Group
Nickelodeon
Sierra Leone Rising
The University of California
AIDA
BET Awards
MGM Grand
Planet Fitness
TRELLEBORG
Wynn Las Vegas
ARBONNE