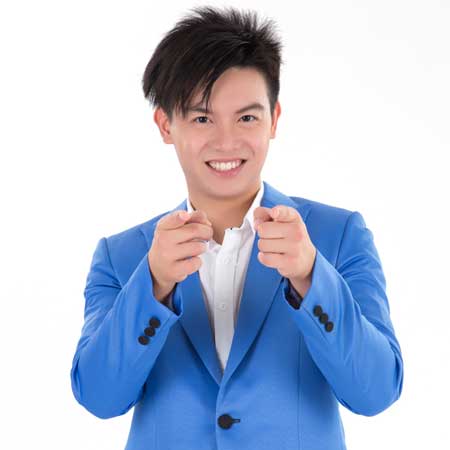 Singapore Magician Ming
Enjoy flawless sleight of hand and incredible tricks from our our award winning close up magic entertainer
Providing corporate magic stage shows and table magic, Ming's act is a unique and exciting interactive icebreaker for any event
Performing live magic shows at corporate functions, children's events and wedding receptions, this magician is loved by all ages
Previous clients include Marina Bay Sands, Citibank, Mediacorp and The U.S Embassy Singapore
Hire Singapore Magician Ming for events throughout Asia and internationally
Singapore Magician Ming PHOTOS
Ming is an award-winning magician with a bubbly personality and a rare talent for all things magical. A member of the International Brotherhood of Magicians Ring 115, Singapore Magician Ming has appeared on numerous TV shows, including BBC 1s "Now You See It", Mediacorp channel U's "Let's Talk" and online series entertaining audiences across the world with his clever and engaging performances. The first performer to bring their magic stage show to The Casablanca Variété Theatre in Amsterdam, Ming has made a reputation as a talented show illusionist as well as a close up magic artist. Entertaining high profile clients at corporate events, trade shows, weddings and gala dinners, whether you are looking for a live magic show to captivate audiences or table magic to break the ice, Ming can provide the ultimate entertainment, tailored to your occasion.
His witty and fun-loving personality will delight and engage audiences as he delivers his incredible close-up magic show right into your guests' hands. His performances offer a fun and exciting ice breaker for any party, as his impossible tricks and slights of hand confound guests of all ages and get them talking! Combining his trademark brand of comedy and magic with tales of experiences from around the world, Singapore Magician Ming will guarantee laughter and smiles all round.
Performance Options
Corporate Stage Show: Providing bespoke magic stage shows for corporate clients, talented illusionist Ming can incorporate your company's branding or product into his exciting performance. A unique marketing opportunity, you can be sure that guests won't forget your company's name in a hurry! 
Family Magic Stage Show: An explosive performance that brings together a unique blend of classic magic, comedy and plenty of audience participation. He can adapt his show to cater towards younger audiences if required. 
Close up magic: A professional table magic performer, ming can mingle with guests at your wedding or private event, amazing everyday he meets with his magical sleight of hand.
Trade Show Magic: The perfect way to encourage interest in your exhibition stand, trade show magic will create a buzz around your product or brand, giving you the opportunity to go in for the hard sale with potential customers.
With an extensive repertoire of previous live magic shows to his name, Ming has performed live magic shows in some amazing venues such as the Magic Hat Brewery, Royal Plaza Hotel and Linköping University. Extremely popular with both corporate and private clients, Ming's sense of humour and incredible talent set him apart from any other magic act out there. To learn more about booking Singapore Magician Ming for your event, get in contact with our team at Scarlett Entertainment and we will be very happy to offer any advice you need.
Variété Theater in Amsterdam the only circus restaurant in Europe
Performed and interviewed on BBC Radio Bristol UK
Magic' executive produced by Singapore Director Jack Neo
Performed at UFM1003 outdoor radio show at AMK Hub
Pre-event Guest Performer for Power 98 FM 21st birthday Party 2015
Featured on Power 98 FM The Power Breakfast Show in Singapore
The Only Magic Related Ground up project featured on the Official SG50
Featured on popular television program "Now you see it" 2015 on BBC1 in
Performed at Linköping University Exchange Students Farewell Dinner (Sweden)
Magic Hat Brewery Launch Party 2013
Singapore 1st Street Magic Competition 2nd place
The street magic apprentice internet TV series
First International Artiste to perform on the Amsterdam Magic Show
First Singaporean Magician to perform at The Illusions Bar Bristol UK
Developed content and starred on Jteam Productions magic series 'Black
Headliner On the Magic Muse Show at Canvas Singapore
Royal Plaza Hotel Family Day 2016
Guest Performer At Marina Bay Sands Dealer Olympic Ceremony 2015
Featured on The New paper (electronic) for his SG50 Tribute Magic Video
Website
the UK
Featured on Singapore Mediacorp TV Channel U's Let's talk Season 3 and 4
Citibank Christmas Carnival 2012
Singapore lst Street Magic Competition Audience's favourite Magician
First Singaporean magician to perform a one-man show at The Casablanca
" He will give you surprises at any moment, you gonna love it! "

Lee Teng, Mediacorp Artiste
" Ming is part of the new generation of magicians. His passion for magic is clear and it's clear this passion has propelled him to be a top notch and highly skilled magician and performer! "

Jonathan Levit, Actor and Magician