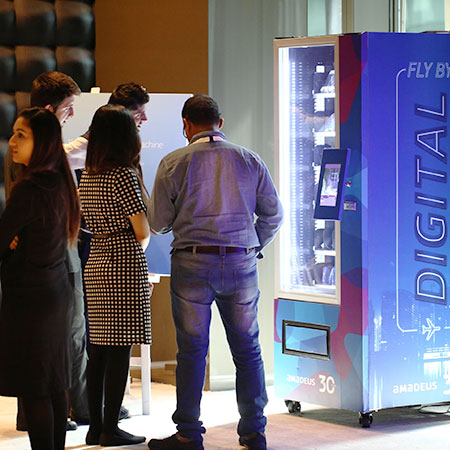 Social Media Vending Machine
Increase social engagement at events with these innovative social activated machines
Get guests to take a picture, upload it to Instagram or Twitter using a specified hashtag and the machine will release a free giveaway!
Event vending machines can be fully customised with your logo, corporate colours and your own branded corporate gifts
Perfect for social engagement at events such as promotional and corporate occasions, product and brand launches, dinners, galas, store openings etc.
This Social Media Vending Machine is available for bookings in the Middle East
Are you looking for original ideas to increase social engagement at events? Then look no further! This innovative Social Media Vending Machine is guaranteed to quickly become the focal point at your party!
Social activated machines are a creative way to get guests to upload or tweet using your specific hashtag and user account, providing them with unique branded corporate gifts.
It's as simple as 1,2,3!
Take a picture or send a tweet
 
Upload the picture on Instagram or tweet using the specified hashtag
 
Once online, the event vending machine will release the free giveaway!
The perfect way to reward guests at your event, these social media vending machines are also ideal to encourage guests to share moments on their social networks and keep the event experience alive for longer!
Our event vending machines can be customised in many different ways: from your logo and corporate colours to your own branded corporate gifts, they can be personalised to suit your requirements. On top of that, some of our social activated machines come with a screen that displays all the items being dispensed.
Increasing social engagement at events has never been easier! A service that offers endless personalisation options, event vending machines always get people talking and sharing their experience with their friends, family and followers.
These sensational social activated machines are available for bookings in the Middle East (UAE, Qatar, Lebanon).
Scarlett Entertainment offers a wide range of service for social engagement at events in the Middle East and worldwide.
Enquire about this fantastic Social Media Vending Machine by getting in touch with us today. Our dedicated team of Entertainment Experts will be more than happy to answer all the questions you may have about this event vending machine and assist you in the booking process.