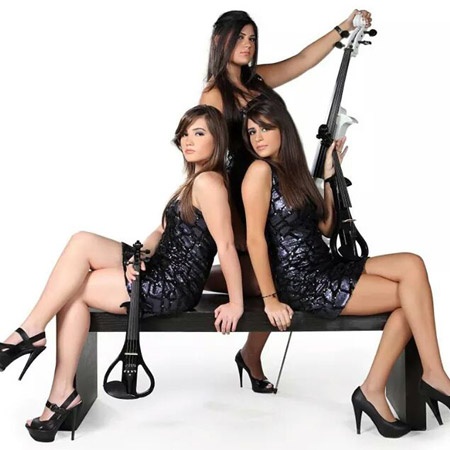 String Trio Lebanon
Gifted string trio are sure to make your special occasion a must attend event.
High energy female string performers will captivate with their fiery performance.
Wonderful live music show features covers from ABBA, Shakira, and more.
Perfect string musicians for private parties, black tie affairs, ceremonies, gala dinners, etc.
Book string act for events throughout Lebanon and worldwide.
String Trio Lebanon PHOTOS
Our wonderfully sounding string trio are sure to leave an impact at your upcoming event or gathering, as our female string performers quickly captivate your audience with their skilful playing and sensational vocal ranges. A talented set of string musicians that will provide an outstanding live music show that everyone can enjoy, keeping your special occasion fired up and filled with energy. Creating a wonderful atmosphere, our remarkable string act is bound to have mass appeal at any event they perform at, thanks to their high energy and upbeat nature.
Delivering stunning string cover of popular songs from ABBA, Shakira, Alabina Ishtar, Enrico Macias, and more, our talented female string performers channel the famed sound of these artists and twist and bend that sound to become a completely new piece of music. Our wonderful string musicians perform with passion, professionalism, and elegance, always striving to create a better live music show. Our outstanding string act will ensure your guests are feeling engaged and entertained throughout the performance, as our string trio is sure to leave them with memorable experiences.
Our beautiful female string performers and vocalists are comprised of 3 sensational string musicians that fill cello and violin exceptionally. A versatile string cover act, our string trio will perform a large variety of genres including pop, jazz, funk, soul, and more traditional tunes that will keep your special event rocking. Offering everything from classy string background music to a more in your face performance that will have our fantastic string musicians taking the stage and becoming your very own "hype" team. The ideal musical experience for private parties, corporate functions, black tie affairs, festivals, gala dinners, receptions, and a lot more. 
If you are interested in booking our sensational female string performers for your upcoming event or gathering, contact any of our entertainment experts who are always more than happy to assist you with your booking needs.