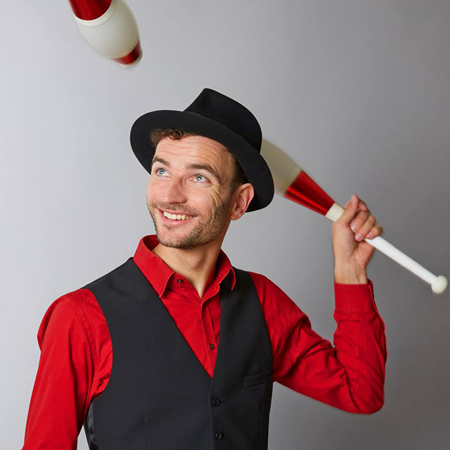 Swiss Comedy Juggler
An amazing comedian, juggler and fire performer with high energy performances to delight all audiences
Winner of multiple awards and many prizes including first place at the Lenzburg Juggler Festival
Previous clients include ABB, Raiffeisen, Coop, Migros, Zürcher Kantonalbank, Georg Fischer AG and Schweizer Fernsehen SRF
He has delivered over 900 funny and interactive shows both on stage or outside
Great for corporate events, city festivals, circus shows, themed events and a whole lot more
Swiss Comedy Juggler PHOTOS
If you want to hire a juggler for your event in Switzerland who can speak English, German and provide some of the very best family entertainment, here at Scarlett Entertainment we have exactly what you are looking for. This fantastic Swiss Comedy Juggler engages with your guests and will provide a light-hearted experience that will have everyone amused. He's an experience variety performer who has delivered over 900 shows and knows exactly how to get the best reactions for his audience. 
Comedy juggling is not only a fantastic way to amuse an audience but also a versatile form of family entertainment for a wide range of events. Our Swiss Comedy Juggler is an excellent showman that captivates the attention of every single member of the audience with great humour and a range of stunning acts. His comedy juggling shows can feature a variety of exhilarating tricks with clubs, balls, hoops, fire and even a chainsaw. 
Whether you're looking to hire a juggler as your main attraction or as an accompaniment throughout the event, the Swiss Comedy Juggler is guaranteed to deliver a flawless performance. His fun and varied family entertainment can be tailored to any occasion and give the best results. This variety performer is great for corporate events, city festivals, circus shows, theatres, themed events and a whole lot more. 
The seasoned variety performer is a winner of multiple awards and many prizes including first place at the Lenzburg Juggler Festival. Some of his previous clients include ABB, Raiffeisen, Coop, Migros, Zürcher Kantonalbank, Georg Fischer AG and Schweizer Fernsehen SRF.
Top Tip:
We have a huge amount of circus acts for events based in Switzerland on our roster and if there's not one available in Switzerland we can access our global roster to find you a suitable performer in a nearby country.
Contact us at Scarlett Entertainment if you want to hire a juggler for your event. Our team of specialist will be more than happy to make all the arrangements with our Swiss Comedy Juggler.