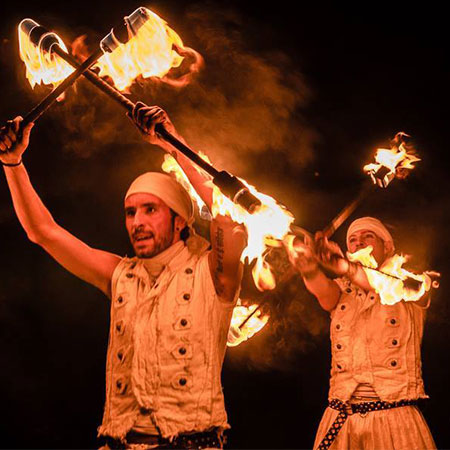 Synchronised Fire Duo
Perfectly coordinated male fire performers offer shows that combine acrobatics, fire and pyrotechnics
Fire artists perform high energy choreographies with a variety of fire equipment and props
Fire dance show is adaptable to both indoor and outdoor performance spaces
Dancing with fire is ideal for openings, street celebrations, private parties, exhibitions, festivals, etc.
This Synchronised Fire Duo is based in Ibiza and available for bookings worldwide
Synchronised Fire Duo PHOTOS
Witness perfect coordination and interaction watching this Synchronised Fire Duo perform. Our sensational fire performers will delight audiences of all ages with this spectacular display of light and fire. If you want your event to be hot, this couple won't disappoint you.
This fire dance show is a visually stunning fusion of flawless technique and boundless creativity. Our fire artists joined forces to offer a truly mesmerising performance that combines acrobatics with incredible fire tricks. They use a variety of props like fire fans and devilsticks and also pyrotechnics to create dazzling effects and high energy choreographies.
Our male fire dancers perform like one united twin flame. Perfectly choreographed, their stunning synchronised routines will bring the wow factor to your grand opening, ceremony, exhibition or any other special celebration Our dancers have a comprehensive selection of costumes they can wear for different occasions. From fully white outfits to fully black costumes, their clothing can fit your event's theme or type of celebration.
Dancing with fire shows are especially suitable for street celebrations, weddings and private parties. Our male fire performers also perform at a variety of events including festivals and fairs, corporate events and ceremonies, to name a few. They also love performing on the beach bring light to the dark at evening parties.
Top Tip:
Our versatile and creative male fire dancers also offer performances where they dressed as fierce warriors and perform with female fire dancers. Check their Fire Dance Duo and Mystic Fire Show pages and find out more about these options.
Scarlett Entertainment offers a variety of Fire Dance Performances for events in Ibiza and all over the world.
This Synchronised Fire Duo is available for performances in Ibiza and Berlin and bookings all over the world. If you would like to enquire about these male fire dancers, contact our team of Entertainment Specialists. They will be happy to answer all the questions you may have about this fire dance performance and guide you through the booking process.