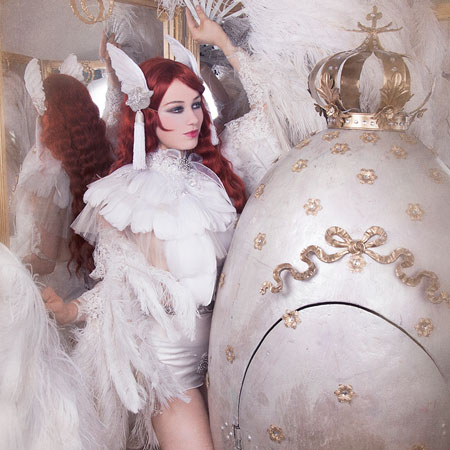 The Faberge Egg
Burlesque starlet performs beautifully choreographed routines
Vicky hatches from the Faberge Egg into a true swan with 4m wings
In demand internationally, the show is steeped in Belle Epoque luxury
Previous clients incl Roberto Cavalli, Kensington Palace, the Paris Ritz
Based in London & available to perform at events worldwide
Burlesque starlet Vicky performs beautifully choreographed routines that take in everything from the ethereal and the breath-taking to the macabre and the erotic: with influences including Anita Berber, Loie Fuller, the Marchesa Luisa Casati, Maya Deren and Rita Hayworth. her performances evoke influences from the Pre-Raphaelites and French literature to Surrealism and more...
Always in demand internationally from Paris to Bali, she has an enviable roster of clients (including Beefeater Gin, Roberto Cavalli, the Sugababes, Kensington Palace, the Casino di Venezia and the Paris Ritz), sparkling reviews and can frequently be seen on covers and in the pages of exclusive magazines around the world, in music videos and stadium projections by top bands (including The Verve, Kings of Leon and Paul Weller) and adding her unique style to film-sets as far away as Bollywood!
The Faberge Egg
Woven around an original prop inherited from the wonderful, quirky Ruby Blues, This is an incredible and in-demand centre-piece that can be used both for performances that provide a glorious climax to any show or as a 45 minute installation from which Vicky can amuse, tease and delight your guests!
Now a life-size Faberge inspired Egg (loosely based on the Order of St George Imperial Egg) it can revolve on its own stage in front of a 6ft by 12ft 180 degree gold mirrrorama (Inspired by the hall of mirrors in The Catherine Palace in St Petersburg) for ultimate decadent opulence.
Currently, as befits the concept, this prop is paired with an adaptation of "The Swan Bride" to create "The Imperial Swan Egg", as Vicky Hatches into a true swan with 4m wings for a show steeped in Belle Epoque luxury, with perhaps a little side reference of King Ludwig of Bavaria's lavish eccentricity!       
This performance can be made suitable for audiences of all ages.
IDEA ARTICLES RELATED TO The Faberge Egg