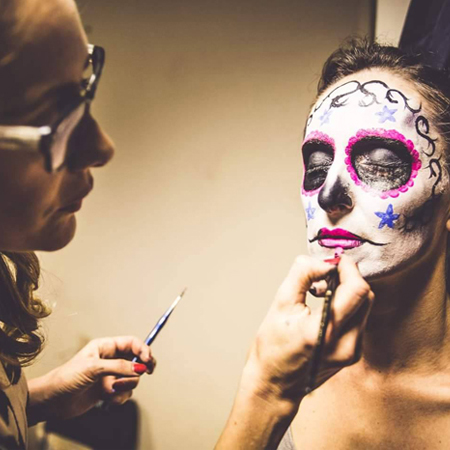 Theatrical Makeup Artist
Fantastic theatrical makeup artist creates stunning full body makeup for shows and events
World class makeup artist perfect or bringing theatre productions to life or giving models and performers a look that really stands out
Event makeup for creating magical roaming characters at events and festivals or for stunning performers in stage shows and parties
Makeup expert has worked at major events for Britain's Got Talent, Virgin, Disney and the London 2012 Olympics
Fantastic theatre makeup specialist available worldwide
Theatrical Makeup Artist PHOTOS
Hire our incredible makeup artist to transform your show or event with her incredible talents. This fantastic theatrical makeup artist will turn your actors into breathtaking works of art that will really bring any show to life. Our event makeup artist is one of the most acclaimed and in demand artists in the country and her extraordinary artistic talents can suit any kind of theatre or performance as well as offering her services for a range of other events.
Our makeup expert is perfect for creating magnificent characters and creatures with her full body makeup that will bring a magical atmosphere to events, festivals and carnivals, or for livening up fashion shows and corporate events with some models and performers that really stand out. Book this talented artist for your production or event and let her spice up your evening with her world class theatre makeup.
This brilliant theatrical makeup artist is a talented and visionary artist in a range of mediums, from live event drawings and caricatures to coffee art for corporate events and parties. Her theatre makeup has been used in productions all over the world in major productions like Wizard of Oz, Wicked and many more.
Our makeup artist has used her skills and creativity in for major companies like Disney, Samsung, Nintendo, Barclays and Virgin, as well as providing event makeup for Britain's Got Talent and artwork for the London 2012 Olympics. Her makeup is also perfect for creating dazzling roaming performers for events, themed nights and festivals, and her huge range of talents can create characters and full body makeup in any style you require. 
Scarlett Entertainment offers you professional and top quality makeup artists and all the services you need to make your event a success.
Contact our team to arrange booking our Theatrical Makeup Artist or another of our fantastic services.
Mattel Toys
LinkedIn
BNY Mellon
Nintendo
British Steel
Nescafe
P&G
Dolce Gusto
Sainsburys
Pets At Home
Raw Productions
The Zoo Project Festivals
Triumph
One & Only resorts
London 2012 Olympics
Jack Morton worldwide
Britain's Got Talent
Samsung
Barclays
Virgin Media
Procter & Gamble
Crayola
Ricoh
O2 Phone Store
Mc Donalds
Area 51
Bestival
Luminar Leisure
Disney