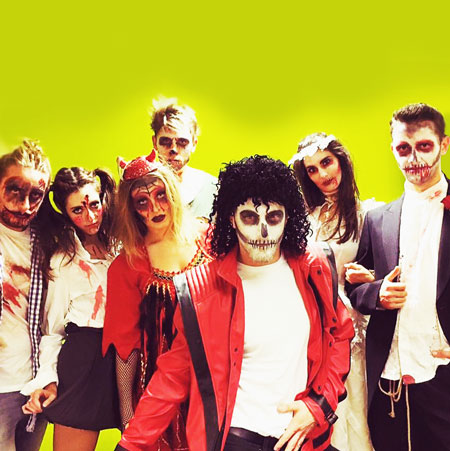 Thriller Flash Mob
Excellent flash mob themed around Michael Jackson's Thriller video
Perfect for surprise entertainment, themed events or Halloween
Dancers will also do meet and greet and freestyle dances
Can perform the routine in normal clothes for more of a surprise
Based in the UK and available for events world wide
Book surprise entertainment from our fantastic professional dancers who will perform a flash mob dance based on the routine of Michael Jackson's iconic and world famous Thriller video. The flash mob routine is an excellent choice for themed events or as Halloween entertainment. Audiences will be amazed to see the flash mob recreating dance routines from Michael Jackson's Thriller right before their eyes and totally captivated by the talent of our costumed dancers. 
Our costumed dancers can either deliver the Thriller flash mob routine in exceptionally good outfits that resemble costumes from the video or in everyday clothing to provide an even bigger surprise performance that will further engage and entertain your guests. After the flash mob performance, the professional dancers can provide some freestyle dancing to music of your choice and will do meet and greet and photos with guests after the show.
The Thriller flash mob is brilliant for PR stunts, corporate events, Halloween entertainment private parties, themed occasions, street performances, and for bringing that memorable surprise entertainment to any event or celebration. The costumed dancers will deliver a performance with elegance and consideration to those around them whilst offering a really fun experience for everyone.
If you are looking to wow you guests with surprise entertainment or you need to book memorable Halloween entertainment for your party, then look no further than our professional dancers and this Thriller flash mob. Speak to our Scarlett Entertainment event specialists who are standing by to assist you with any booking needs you might have.