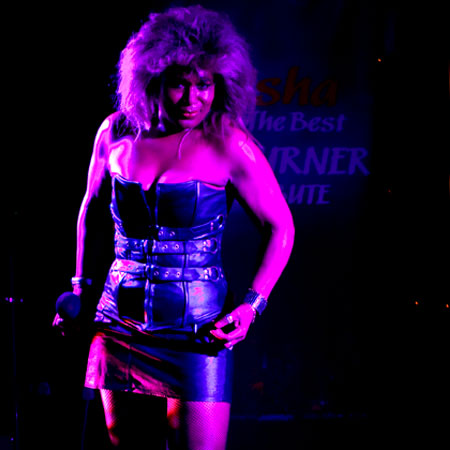 Tina Turner Tribute
Highly Recommended and in demand Tina Turner Tribute show
A pulsating show, emulating the sounds of the great female Rock Legend
Performance is adapted & tailored to suit every occasion
Previous clients inc BMW, Celtic Manor Resort, Shell Oil, Ford & Castrol
Based in the UK and available to perform Worldwide
Tina Turner Tribute VIDEOS
Tina Turner Tribute PHOTOS
The Heels, the Fishnets, the Strut, the Lips, and the hair... capture the moment as she delivers a pulsating show, emulating the sounds of the greatest ever female Rock Legend - Tina Turner.
Some performers 'work' their audience - this act works 'with & amongst' her audience, starting to develop the atmosphere before her stilettos even hit the stage.
The performance is adapted to suit every occasion from cosy dinner dance, night club, hotel, bar diner, private function, wedding or holiday camp. In fact, any venue or event where you want your guests to enjoy themselves - dancing, listening and singing along to those well known hits - from the 60s performed by the young Tina to the upbeat favourite hits of the 90s era.
This act will be tailored to meet your exact requirements. Her reputation as a top class, polished performer is well known and in booking her you can be assured and confident that you are engaging a fabulous performer, guaranteed to provide a great evening of entertainment!
This tribute's performances takes her nationwide and on the continent to many venues in delivering the performance associated with Tina and that all Tina fans identify. She is vibrant, raunchy, simmering and seductive.
Close your eyes and Tina is right there - let your imagination roam as her powerful voice re-creates the ambiance of Tina. The emotions are raw as she sings Don't Wanna Fight & Heartache. The passion is evident as she belts out Lets Stay Together just for you.
Clients engaging this Tina Turner Tribute can be confident that they are booking a great performer and entertainer - you will not be disappointed.
Disco Inferno
Private Dancer
I Can't Stand The Rain
Goldeneye
Missing you
We don't need Another Hero
Tailfeather
I don't wanna Lose You
Midnight Hour
Typical Male
It Takes Two
Steamy Windows
Fool in Love
Simply the best
Let's Stay Together
What's Love Got to do With It
Proud Mary
Rock Me Baby
Heartache
Addicted to Love
Don't Wanna Fight
Better be good To me
Tina's Wish
What you get is what you see
River Deep Mountain High
Nutbush City
Ribbey Hall village
Moat House Hotels
The Sands Venue
Ford
Nissan
Brighton Pier
Marriott Hotel Group
Arriva Travel
De Vere Hotels
Tatton Park Cheshire
The Trafford Centre Manchester
Shell Oil  Norway
Bolsover Castle Festival
The Willows Salford
Top Blackpool Hotels
Castrol Inc
Vauxhall
BMW
Village Hotel Group
Holiday Inn Group
Hilton Hotels
Manchester Pride Festival
Crewe Hall Cheshire
Matthews Street Festival Liverpool
Celtic Manor Resort
" She gave an outstanding performance for my 50th birthday celebrations. Not only were my family and I enthralled with her performance so were all our guests. She made the party successful - her voice and style were magnificent. The atmosphere was equivalent to participating in a live concert. We were fortunate that the weather was dry and warm and we were able to have the performance outdoors. All our guests danced passionately to her songs on the grass which became a stage and dance floor!The performance was captured on dvd which has been enjoyed so many times by those who view it.I would have no hesitation in recommending this Tina Turner Tribute and I look forward to having another party with her presentation. "

Lady Vanessa Bernstein, Manchester
" It was a fantastic evening and you where spectacular, everyone absolutely loved your performance. The feedback has been excellent, a couple of the members actually thought you were Tina Turner.A lot of members have actually seen Tina live and have also seen many tributes, myself included, and you are by far the best tribute we have ever seen, you are so much like Tina in every way its quite unbelievable. The girls loved the fact you had them joining in with you,Thank you for a fantastic evening, you made the event and set the tone for the rest of the Rally, we couldn't have asked for more - superb! "

Chris Taylor WIMA GB Division
" It was a great performance at Bradford Pride 2007….maybe we'll be lucky enough to have you back for 2008! Everybody had a fab Tina Turner experience on the night….although I would suggest portable showers and hair driers for those who danced WAY TOO MUCH!! "

Bradford Pride
" It was a pleasure to have you both at Eastleigh FC. As a speaker/mc for over 20 years I have worked with many tributes and you were outstanding both in your superb voice plus your warm and exciting presentation. You are more than a tribute you are an entertainer! "

Denis BundyEastleigh F.C.