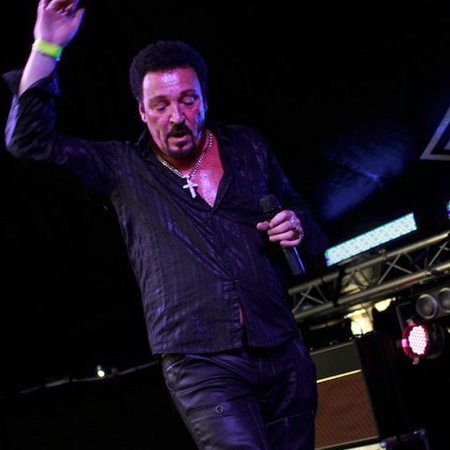 Tom Jones Tribute
Uncanny resemblance to the real Tom in both visual appearance & sound
Starred in Granada TV's Stars in Their Eyes UK tour
Appeared on GMTV, Sky News, S4C, ITV and BBC1 Wales
Available for both look-alike and sound-alike work
Based in Wales & available to perform at events worldwide
This international Tom Jones tribute has appeared on GMTV, Sky News, S4C and ITV and has also starred in Granada TV's Stars in Their Eyes UK tour with Lisa Scott Lee, formally with Steps.
John is a top Tom Jones Tribute Act and Celebrity Lookalike that many of you will recognise from the BBC 1 Wales television Commercials.  He was chosen to represent the 6 nations Rugby and was also requested by the Sunday Night Project to appear on their show with the real Tom Jones.
John is based in Wales where he is known as the voice of the Welsh valleys, having also performed on the same stage in Pontypridd where Tom started his career.
John's blistering performances are in great demand all over the world, he has recently returned from Malta where he was sent to perform with Sir Bob Geldof. He was also appointed to perform with G4 at Cheltenham Open Air festival, to a crowd of 15,000. Events such as these are common in John's diary, which is why it is best to book this act early to avoid disappointment.
I Who Have Nothing
Whats New Pussycat
Green Grass of Home
Shes A Lady
Never Fall In Love Again
Delilah
Baby Its Cold outside
Sexbomb
You Can Leave Your Hat on
Kiss
Black Betty
Its Not Unusual
Mama Told Me Not To Come
Funny Familiar Forgotten Feelings
If I Only Knew
Fight 4 Youre Right To Party
If He Should Ever Leave You
Spanish Harlem
Nothing but a Woman
Land of 1000 Dances
Help Yourself
Hilton Hotels
Holiday Inns
Best Western Hotels
Bourne Leisure
Leeds Utd Fc
Leighton Orient Fc
Cardiff City Hall
England Rugby International
Malta Entertainment
Killarney The Granary
Itv Television
GMTV Television
Park Plaza Cardiff And London & Crown Plaza Nottinham
BBC 1 With Donny Osmond
Road House Busket Malta
New Film Cast As Tom Jones Featuring Lost Prophets
iba Boxing Frank Maloney
Caerphilly Castle
Clearwell Castle
Cofe Rock
Joannas Night Club Elgin
Live With Boney M Norway
Andaz London
Quality Royal Hull
Selfridges
Haven Holidays
Worcester Rfc
Bristol Empire
Royal Moat Hotels
Kaupthing Bank Iceland
Ireland Entertainment Dublin Temple Bar
Marriot Hotels
s4c Television
Sky Tv
Westminster Central Hall
Triple Crown Caribbean
Club Ekali Greece
Hard Rock Cafe's Uk
Cardiff Castle
Craig Y Nos Castle
Live With Chas N Dave
Achnagain House Inverness
Celtic Manor Resort Newport
" Quite simply the best Tom Jones tribute act around. He looks and sounds exactly like Tom. John is a great guy, value for money in my opinion, very reliable and brilliant entertainment. "

Russ
" Awesome! We went to one of his Las Vegas Nights in Bristol, reckon 95% of the people there believed that they were watching the real Tom Jones. "

Ron Williams
" For anyone who is a Tom Jones fan, go and see this guy. He is sensational! Best in the business. "

Mathew Fraser
" A sensational vocalist with dynamic stage presence. He is Tom Jones. Highly recommended! "

Gwen Llynas
" Hi there - I cannot praise this act enough - he was a very nice bloke, performed with lots of energy, interacted with the crowd well and was more than happy to do multiple encores - my guest and me absolutely loved him and I think he'll get repeat bookings from some of them! Quality act - can't thank him enough - he made the party! "

Tracy Akin
" I hired him for my wedding as a surprise for the guests. He was brilliant, I will run out of adjectives to describe how good he was and more importantly the positive effect on the wedding. The wedding went into overload with his appearance and everyone, old and young loved him. Even today a few months on, people are still saying 'that Tom Jones was boss'. He really made the wedding. "

Edward Kabluczenko