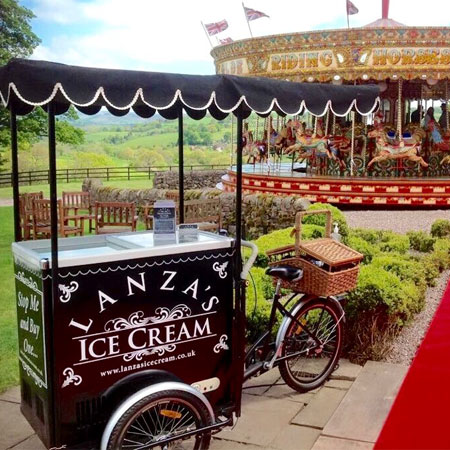 Traditional Ice-cream Tricycle
Traditional Ice-cream Tricycle, perfect for a personalised company event or private party
The very best of mobile event catering brought straight to your venue of choice
Truly exotic traditional ice-cream in an array of flavours, ranging from Strawberries & Cream, Toffee Fudge & Stem Ginger
Personalised pots, cones & wafers featuring you company branding & colours - the perfect customised catering for your corporate occasion
Organic handmade ice-cream freshly created from the dairy produced at the farm.
Traditional Ice-cream Tricycle PHOTOS
Our Traditional Ice-cream Tricycle offers the very best organic handmade ice-cream for mobile event catering. The perfect customised catering solution for your personalised event or private party delivering traditional ice-cream in an array of sumptuous flavours. 
Award-winning luxury ice-creams & sorbets that will wow your guests! All products are completely organic, made to specifications, without artificial colouring or preservatives. What better way to enjoy this unique produce than from our custom made tricycle and bikes, adding the perfect thematic element to your special event.  
Offer your guests the unique opportunity to have personalised pots with their company branding or logos featured on spoons, cones & wafers. Alternatively, why not  tailor a personal message to your guests, offering the perfect customised catering solution for your corporate occasion. 
Our bespoke vintage ice-cream tricycle offers the very best of mobile event catering brought straight to your venue of choice. The luxury ice-cream & sorbets are completely organic and handmade, freshly created on a Cheshire farm where the dairy is produced, within 24 hours of the cows being milked! We have a host of exotic flavours for your guests to choose between ranging from Peaches & Cream, Mint Choc Chip, Coconut & Stem Ginger, sure to suit every individual taste. 
Customised catering set to impress, allow your guests to enjoy traditional ice-cream from our exclusive mobile event catering tricycle, the perfect accompaniment for your tailored company event.
Practical tips 
Personalised pots with company branding on spoons, cones or wafers available on request 
A minimum of 10,000 for special orders available on request
Not yet booked your group hotel?  Our Scarlett Event team are here to help!  We work with the very best in luxury hotel group accommodation in London, from Boutique hotels to large hotel facilities.
Contact us at Scarlett today to talk about booking our Traditional Ice-cream Tricylce for your corporate team day or personalised event.