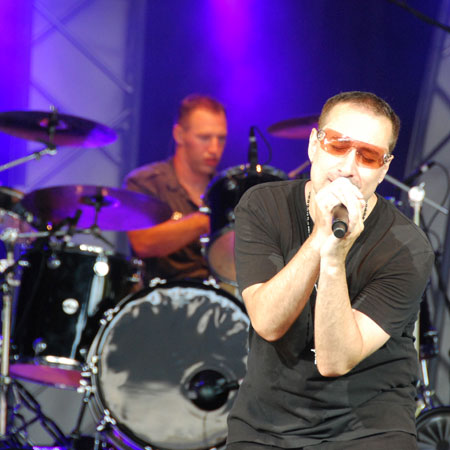 U2 Tribute
Fantastic U2 tribute show- now includes 3D show with giant onscreen stage
Performing all of the hits inc Vertigo, With or Without You and Elevation
4 piece band featuring talented and professional musicians
Great for festivals, parties, motorsport events and sporting events
Based in New York City and available to perform worldwide
This is "the world's second best U2 show"!!
U2's music is faithfully recreated by this four piece tribute to one of the world's best loved rock bands.  Music performed by this talented tribute band includes hits from Boy, October, War, The Unforgettable Fire, The Joshua Tree and Achtung Baby, as well as their latest releases.
This professional tribute act can also perform their new 3D show that includes U2 video footage, synchronized to the band's performance, projected onto a giant screen onstage.
Bono, The Edge, Adam Clayton and Larry Mullen Jr. IMPERSONATORS make up the members of this amazing U2 tribute show.
All Because Of You
All I Want Is You
Angel Of Harlem
Bad
Beautiful Day
Bullet The Blue Sky
City Of Blinding Lights
Desire
Electrical Storm
Elevation
Eleven O'clock Tick Tock
Even Better Than The Real Thing
Fourty
Get On Your Boots
Helter Skelter
Hold Me Thrill Me Kiss Me Kill Me
In a Little While
In Gods Country
I will Follow
Kite
Magnificent
Miracle Drug
Miss Sarajevo
Mission Impossible Theme
Mysterious Ways
New Years Day
One
A Sort Of Homecoming
Out Of Control
Party Girl
Pride (In The Name Of Love)
Red Hill Mining Town
Running To Stand Still
Silver and Gold
Sometimes You Cant Make It On Your Own
Staring At The Sun
Stay
Stuck In A Moment
Still Haven't Found
Sunday Bloody Sunday
The Electric Co.
The End of The World
The Sweetest Thing
Trip through your wires
Two Hearts Beat As One
Ultraviolet (Light my way)
Unforgettable Fire
Vertigo
Walk On
When Love Comes To Town
Where The Streets Have No Name
Who's Going To Ride Your Wild Horses
Wire
With Or Without You
One Tree Hill
The Joshua Tree NY
BB King's
Disney
Blue Restaurant Bar and Grill NY
And many more...
Irish Times