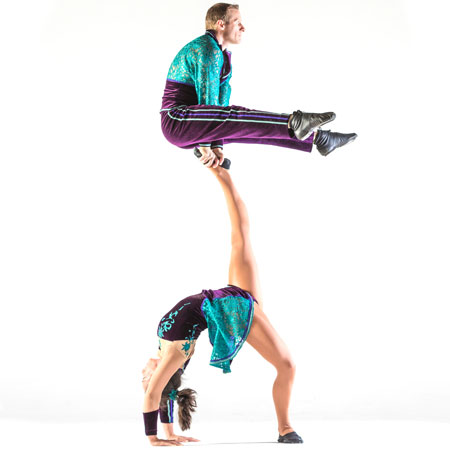 UK Acro Duo
An incredible male and female acro duo with fantastic acrobatic shows
Challenging gender stereotypes in acrobatics with reversed roles
Amazing displays of strength, poise and dexterity
Ideal for corporate functions, private events, and special occasions
Based in Bristol and available for events all over the world
Our totally sensational UK Acro Duo are a pair of extremely talented male and female acrobat performers who know exactly how to deliver a high impact acrobatic show. 
This pair of UK acrobats deliver breathtaking performances with dynamic lifts, swift elegant movements and poise. The Acro Duo's choreographies are a stunning display of power and grace that will have audiences in complete awe of their skills and abilities. They are in fact known to have had a standing ovation form their acrobatic show. 
This amazing UK Acro Duo actively challenge gender roles in acrobatics and they will surprise your guests as they playfully swap roles during their performance. The female acrobats lifts her male partner above her head with elegance and ease.
Equipped with a variety of colourful and glitzy costumes the male and female acrobats duo have can create or customise an acrobatic show to suit your and your event. From high energy, action packed routines to sensual, close body contact performances, they have something to suit and wow everyone. 
Whether it be a corporate event, wedding entertainment or private function, This UK Acro Duo will create spectacular memories and an astonishing display of dexterity with fun that can entertain audiences of all ages. 
If you would like to book or find out more about, the UK Acro Duo please get in touch with our team at Scarlett Entertainment.