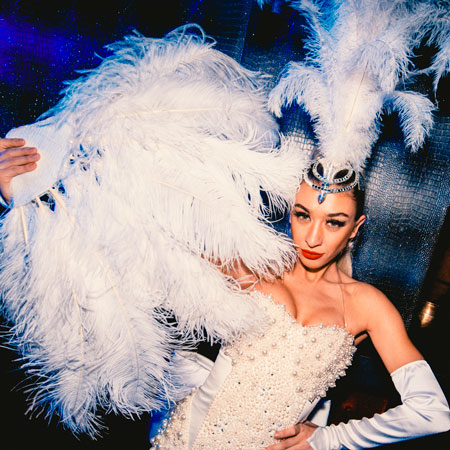 Ukraine VIP Party Showgirls
Luxury showgirls will bring a touch of style and glamour to any party or special event
Tailorable group sizes and dance routines to best suit your event and the impact you want to give
Offer fully choreographed shows to ambient freestyle with a touch of mix and mingle
Available with a variety of costumes and theme performances
Ukrainian dancers based in Kiev and available for events throughout Europe
Ukraine VIP Party Showgirls PHOTOS
If you are looking to razzle and dazzle your guests, our Ukraine VIP Party Showgirls are guaranteed to turn a few heads. The professional and very glamorous dancers have a vast range of experience entertaining guests with sassy and stylish dance routines that raise a few eyebrows. 
Impress your guests with luxury showgirls  
These professional showgirls are just the right add-on entertainment option to give your event a little bit of luxury. Whether opening or closing off your event with a choreographed routine or adding a freestyle mix and mingle style element, our Ukraine VIP Party Showgirls will make a big impact. The elite Ukrainian dancers have backgrounds in dancing and experience performing for different clients. They fully understand the differences between VIP party audience and a family-friendly event.  
Glamorous dancers tailorable to your event
The luxury showgirls are available in various groups sizes. As you can see from the promo photos above, the Ukrainian dancers have a range of costumes perfect for VIP events and special occasions. The team of professional showgirls is also available in a wide variety of themes ranging from cowgirls to Brazilian/carnival and much more. 
Hire professional showgirls throughout Europe
Based in Kiev, the Ukrainian dancers are available throughout Europe and further afield, if required. The showgirls are ideal for VIP parties, nightclubs, elite events and much more. 
Contact us to book the Ukraine VIP Party Showgirls and one of our team members will get back to you.