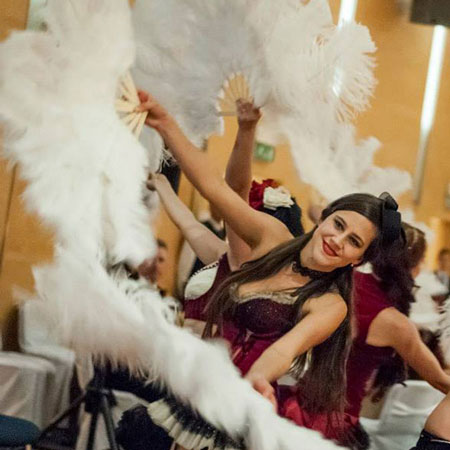 Variety Dance Group
Professional dancers provide brilliant themed entertainment for your event
Offer a range of stage shows featuring a wide selection of dance styles
High standard of folk dance performances and cabaret productions to amaze audiences
Ideal for festivals, themed occasions, gala dinners, parties, weddings, etc.
Dance troupe available to hire for events in Prague and across the Czech Republic
Variety Dance Group PHOTOS
Specialising in historical dance performances and cabaret productions, our fantastic dance troupe are certain to prove a popular choice at your event as they provide audiences with an outstanding quality of themed entertainment. Professional dancers trained in a wide variety of dance styles, these skilled performers promise to make it an unforgettable occasion with their expert choreography, authentic costumes, and captivating stage shows.
Bringing a high level of professionalism and creativity to every performance, our talented dance troupe are sure to create an impact at your event as they wow audiences with their beautiful routines and natural flair for the stage. Able to tailor each stage show to suit your occasion, theme, or venue, these versatile and experienced performers are bound to enhance the experience of your special occasion and keep your guests transfixed from start to finish.
Amongst the many themed performances and cabaret productions that our professional dancers can offer are:
Medieval - Noble gothic dances are performed with roses and scarves, and can be made more impressive with the addition of flaming torches.
Folk - Historical folk dances of bygone eras that are certain to put a smile on your guests' faces.
Gypsy - Balkan music and gypsy rhythms combine in this wonderful performance that celebrates gypsy dances
Jesters - A comic performance filled with acrobatics and juggling.
Four Elements - Each dancer represents either earth, fire, air, or water in this enchanting show celebrating the four elements.
Oriental - Our brilliant belly dancers will beguile audiences with their dynamic performance, and can include accessories such as swords and Isis wings.
Charleston - Celebrate the Roaring Twenties with a fast-paced Charleston performance complete with authentic 1920s flapper dancers.
Can Can - Travel back to 19th century Paris where this scandalous dance was taking the cabaret scene by storm with an energetic show from our skilled performers
Parisian - Bring the famous French dance hall to your event with an exciting burlesque dance full of elegance and risqué fun.
Certain to delight audiences with their incredible act, our dance troupe are ideal for private parties, themed events, festivals, gala dinners, weddings, ceremonies, product launches and more, and are available to book for events in Prague and throughout the Czech Republic.
As global entertainment specialists, at Scarlett Entertainment we can offer a whole range of incredible dancers to perform at private and corporate events around the world and utterly amaze your audiences. For more information about the themed entertainment we can provide, contact our dedicated team of co-ordinators today.