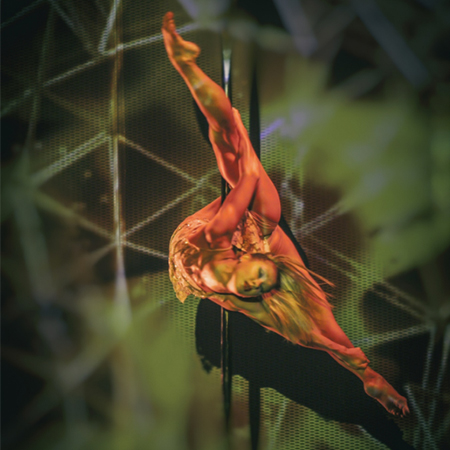 Versatile Pole Dancer
A skillful acrobatic dancer offering a mesmerising pole performance full of passion and sensuality
Can create custom choreographies and perform alongside dancers, live bands and other artists
Can offer a stunning pole dancing combined with projection mapping 3D content for greater visual impact
Ideal for after dinner experiences, reception or for any cabaret or variety show
This Versatile Pole Dancer is available for bookings in Switzerland and worldwide
Versatile Pole Dancer VIDEOS
Versatile Pole Dancer PHOTOS
A display of great strength and flexibility, this stunning pole dancing will be the icing on the cage of any event. Performed by a Versatile Pole Dancer, this explosive acrobatic pole act is guaranteed to captivate audiences with her impressive skills, sensuality and dexterity. A mersmerising pole performance that will capture spectator's attention from the very beginning and that will be massively applauded.
Our sensational acrobat is a versatile pole dancer that is continuously challenging herself and looking for new ways to impress her audience. That's why she is always happy to collaborate with other artists or acts to carry out a show that is unique and that really offers something different. It is not unusual to see other artists such as dancers join her on stage to perform more complete and original choreographies.
Moreover, our versatile pole dancer can tailor her choreographies so they fit any song or even adapt her stunning pole dancing in order to perform it alongside a live band or combine it with projection mapping 3D content. The latter is especially demanded and enjoyed by tech lovers and is sure to provide guests at your event, reception or dinner party a truly eye-catching spectacle.
The minute this skillful acrobatic dancer takes to the stage, spectators will feel an instant connection with her and won't be able to take their eyes off her until her last movement. Combining elements of acrobatics and contemporary dance, she executes a mesmerizing pole performance that showcases her incredible talent, skills and natural grace and elegance.
Our versatile pole dancer have performed her captivating and sensual acrobatic pole act at many venues across Europe and some countries in Asia. Check the tab above and see for yourself the variety of events and renowned brands that have trusted her in the past to provide the entertainment for their guests.
Scarlett Entertainment offers you a wide selection of pole dancers in any style to suit your event.
If you're interested in booking this sensational and skillful acrobatic dancer, contact us today and ask to speak to our of our entertainment specialists. They will be happy to answer all your questions.
Auto Expo Zurich ( Zurich Switzerland)
Ballo del Doge ( Venice Italy)
Edeka Messe Munchen ( Germany)
One & Only Rheti Rhah ( Maldives) New Years eve event
VW group event Auto Expo Frankfurt
Womanity Foundation Gala ( Geneve Switzerland)
ABC group events (Lebanon)
BWT Gala Event ( Austria )
Catrice Cosmetics L.O.V. Launch ( Frankfurt Germany)
Ferragosto di Venezia Hotel Excelsior
Pokerstars One Drop Foundation Gala for Guy Laliberte ( Monaco)
Venetian Carnival Teatro la Fenice
Audi auto  expo  ( Germany)