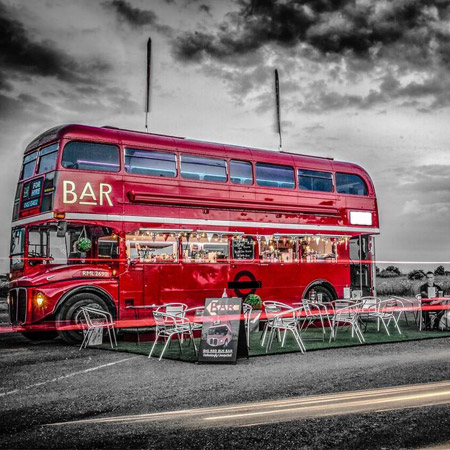 Vintage Bus Bar UK
Our original Vintage Bus Bar will an element of fun to your event catering
A unique and innovative pop-up bar will provide the perfect addition to your bespoke event
Turn your event into something refreshingly unexpected with the addition of a classic 1967 Routemaster Bus
Perfect for your festival, corporate occasion, private party or exclusive launch, our mobile bus bar is sure to leave a lasting impression
Ensure your customised entertainment in the UK provides the wow factor for your event with our incredible big red bus
Vintage Bus Bar UK PHOTOS
Add a little imagination to your bespoke event with our Vintage Bus Bar, the perfect event catering solution for your customised entertainment. Our exclusive pop-up bar will keep your guests entertained, adding an element of style to your occasion. 
A unique and innovative pop-up bar will provide the perfect addition to your bespoke event, offering endless photo opportunities for everyone to enjoy!
Turn your event into something refreshingly unexpected with the addition of a classic vintage 1967 red Routemaster Bus! Our innovative bar concept offers a stylish seating area upstairs with a retractable roof and atmospheric coloured LED lighting, perfect for an evening party or music festival. The exterior features plenty of space to advertise and promote corporate banners, which would also suit a corporate event or product launch. The bus contains a huge canopy with modern chairs and tables. 
Our bus is equipped with a fully functioning bar, serving quality beers, larger and ciders from local micro-breweries, along with everyones favourite tipples, offering your guests the perfect celebratory experience. 
Whether you're holding a mini festival, corporate occasion, private party or an exclusive launch, our Vintage Bus Bar will add an element of fun to your event catering, sure to leave a lasting impression. 
We appreciate that no two events are the same, so our experienced team will tailor-make packages to suit individual client needs. We have several options of vehicle available other than our Vintage Bus Bar to ensure that every type of event, large or intimate, can be catered for. 
The Little Red Bus Bar
A stunning 1970 VW camper van bar that still offers the same fantastic array of products as the Vintage Bus Bar, from quality real ales to Pimms, wine and speciality teas. The Little Red Bus Bar offers the perfect solution for a smaller event or wedding. 
Mobile Bars
Our Mobile Bars are the perfect addition for indoor and outdoor events, with their compact size enabling them to fit into any spot at your event. Offering the same fantastic style and products as our bus bars, our mobile bars can be set up with or without a gazebo to suit any occasion or location. 
Tiny Wee Bike Bar
If you'd like to treat your guests further after the main event, why not hire one of our mobile bars, in the form of a restored vintage ice-cream tricycle to refresh your guests with delicious local ice-cream! Our Tiny Wee Bike Bar is exclusively available with the hire of any of our larger bars. 
Ensure your customised entertainment in the UK provides the wow factor for your event with our incredible big red bus! 
Practical Tips 
Minimum persons catered for - 50 
Maximum persons catered for - 50,000
Bar licenses can be arranged for your special event 
Contact us at Scarlett today to talk about booking our Vintage Bus Bar for your corporate team day or personalised event.