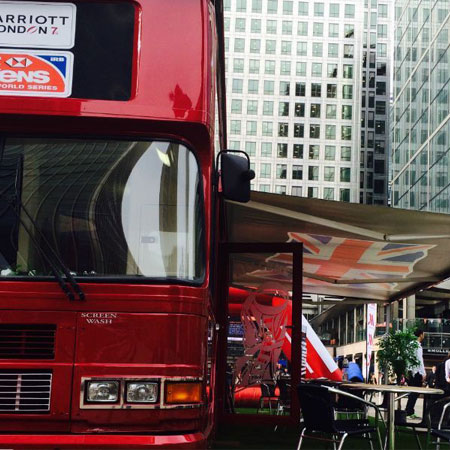 Vintage Hospitality Bus
Impress your guests with our iconic corporate hospitality bus
The perfect vintage bus bar for company functions, promotional activity, private parties or day hire for outside events
Our pop-up bus bar has an electronic roof, offering the ideal solution for your corporate functions all year round
A fabulous bus equipped with an onboard generator and two serving hatches to keep your crowd refreshed throughout your event
Our striking Hospitality Bus delivers the perfect mobile event catering solution for your corporate entertainment in the UK
Vintage Hospitality Bus PHOTOS
Ensure your corporate occasion is memorable with a striking Vintage Hospitality Bus. Our pop-up bus bar provides the perfect corporate hospitality and mobile event catering solution for your themed event. 
Impress your guests with our iconic corporate hospitality bus, ensuring an unforgettable occasion!
With an electronic roof, our fabulous pop-up bus bar delivers the ideal solution for your corporate functions all year round. Perfect for company functions, promotional activity, private privates, brand reveals and exclusive launches. Additionally day hire for outdoor events. 
Ideal for your themed event in the UK, our striking bus is fully equipped with an onboard generator and two serving hatches at the front to keep your crowd refreshed throughout. 
Our lovingly restored Routemaster delivers an ideal backdrop to any company event, with plenty of options for company branding, logos and colours to be displayed on the outside. The modern conversion allows 24 people seated under cover upstairs with the electronic roof raising for impressive 360 degree viewing.  
The downstairs hosts a kitchen facility, with clients also using the upstairs for viewing or entertaining as well as dining. Fully self sufficient with a silent generator, our pop up bus bar provides the very best in corporate hospitality. 
Practical Tips 
An electric roof makes our corporate hospitality bus perfect for all weathers and ideal solution for product launches or private parties
Upstairs seats 24 people under cover, with the electronic roof raising for a 360 degree viewing and sealed from the weather where necessary by a transparent perspex surround
The downstairs hosts a kitchen facility and upstairs can be used as either a viewing area or entertainment area as well as dining
There is an onboard generator and two serving hatches to the front
The bus has a gas hob, microwave, fridges, freezers and 4 x 15" TV screens on the top deck and an entertainment system
The front, sides and rear can be branded to a client or brand
Installation and set up of the bus will be provided
Fully licensed and insured
Bar
Serves a draft lage, bitter and Guiness and usually Carlsberg products, (unless requested otherwise) 
Full range of alcoholic and non-alcoholic products including alco-pops, wines, champagne, Pimms and soft drinks
Operates a no glass policy, all bottles and glasses are plastic
Clients can request particular products and real ales are available
Buses are completely roadworthy, but do NOT travel with passengers on board, guests served once stationary
Contact Scarlett Entertainment & Events today to talk about booking our Vintage Hospitality Bus.