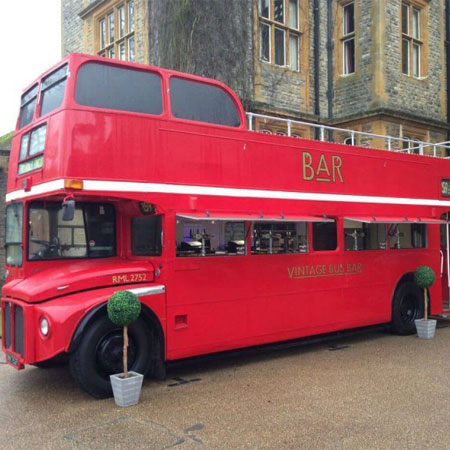 Vintage Routemaster Bus Bar
Hire an iconic Routemaster bus bar for an unforgettable themed event
A pop-up bus bar will add the perfect vintage event prop to your celebratory occasion
Bespoke Routemaster bus bar will offer a nostalgic wow factor, providing a focal point for your guests to enjoy
Our lovingly restored Routemaster bus has an open top deck, previously used in London from 1965 as a public service bus
Provide your party with a mobile catering service in the UK to be talked about for weeks to come
Vintage Routemaster Bus Bar PHOTOS
Our bespoke Routemaster bus bar will offer your crowd the wow factor, providing a themed event to remember. A perfect pop-up bus bar that delivers the ideal vintage event prop and the ideal solution for your mobile catering in the UK. 
We provide Routemaster buses that have been completely overhauled and lovingly restored, enabling us to travel all over the country independently, providing quality bar services, adding the perfect vintage event prop to your celebratory occasion. 
Hire our iconic Routemaster bus bar to ensure an unforgettable themed event. Our classic pop-up bus bar will offer a sense of nostalgia, having previously been used in London from 1965 as a public service bus, now back in action, providing a focal point for your guests to enjoy. 
Our open top Routemaster delivers a striking pop-up bus bar that will add the perfect vintage event prop to your celebratory occasion, containing four serving hatches to keep your crowd fully refreshed throughout the duration of the event. 
Our buses have travelled in excess of 1.25 million miles and still have plenty of life left in them, so why not impress you party and add an element of style with a mobile catering service in the UK to be talked about for weeks to come!
Practical Tips 
Each bus has four serving hatches at the near side and one at the off side, on the lower level
There are steps to the rear of the bus leading to a grassed viewing platform at the top with some optional seating
Guests will be served from the nearside hatches but do not use the lower deck
Buses can come with 'self sufficient' power sources, providing 240v for lighting, onboard coolers and fridges. Kegs and stock are stored on board. 
The Routemaster has disco style lighting, music systems and TV menus and advertising boards on the front screens
Staff will install and set up the bus, making a very quick, simple and hassle free bar catering option
All of our Routemaster buses are fully licensed and insured 
We serve a draft lager (usually Carlsberg - unless requested otherwise), bitter and Guiness 
Full range of alcoholic and non-alcoholic products including alco-pops, wines, champagne, Pimms and soft drinks
We operate a no glass policy, all bottles and serving glasses are plastic
Clients can request particular products if desired and real ales are also available
Buses are completely roadworthy, but do NOT travel with passengers on board, guests served once stationary
Available to hire as a 'dry hire service' so clients can operate the bus service themselves
Size - Routemasters measure just under 13 feet high, 12 metres long, 4 metres wide
Contact us at Scarlett Entertainment & Events today to talk about booking our Vintage Routemaster Bus Bar for your corporate team day or personalised event.