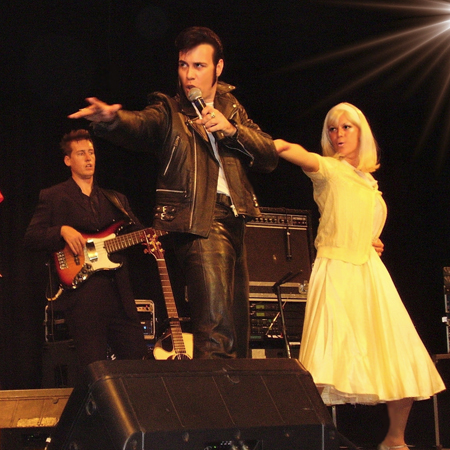 Vocal Impersonator
Renowned for his imitations of some of the world's most memorable artistes
Impressions include Elvis, Buddy Holly, John Travolta, Cliff Richard...
TV appearances including The Big Breakfast & the Vanessa show
Performed at venues such as the N.E.C. and Elstree Studios
Based in Dorset & available to perform at events throughout the UK
Vocal Impersonator VIDEOS
Vocal Impersonator PHOTOS
Darren started his singing career at the tender age of 17 and it was whilst working as a blue coat for Warner Holidays that Darren really discovered his unique talent.  His uncanny ability enabled him to imitate some of the world's most memorable artistes and following a successful season with Warners, he decided to pursue his dream of becoming an established professional vocal entertainer.
Well his dream certainly came true!
Darren is now renowned for his spectacular Elvis Presley & Rock & Roll legends tribute shows, having performed them extensively throughout the UK to captivated audiences in theatres, town halls, corporate & private functions.
Darren's Buddy Holly tribute show has become very popular & he has now created a tribute show that showcases both his Elvis & Buddy Holly tribute.
Apart from Elvis and Buddy, Darren's other vocal impressions consist of numerous stars such as John Travolta, Cliff Richard, Eddie Cochran, Jerry Lee Lewis, Neil Sedaka, Bobby Darin, The Monkees, The Beatles, The Bee Gees, Robbie Williams, Tony Hadley and many many more!
Darren's extraordinary talent has seen him labelled within the industry as "The Voice" and once you have heard him you will understand why!
Darren has made many tv appearances including The Big Breakfast on which he appeared as both Elvis and Buddy Holly. He has also appeared on the Vanessa show and in the Cult Fiction adverts which were aired not just on national & international tv but also on cinema trailer averts just before the feature film.
He has also appeared in the Italian program Film Icons and in various pop videos. Darren has also performed his impressions on BBC radio and performed at venues such as the N.E.C.,The Winter Gardens in Eastbourne, Elstree Studios & many of the national theatres across the UK.
I Was The One
If I Can Dream
Trying To Get To You
Concert Years
Always On My Mind
Burning Love
Can't Help Falling In Love
I Just Can't Help Believing
Suspicious Minds
Heartbreak Hotel
Hillbilly Cat
Blue Moon Of Kentucky
That's Alright Mama
Hound Dog
Blue Suede Shoes
Polk Salad Annie
I Got A Woman
Johnny B Goode
An American Trilogy
" Great entertainer, England should be proud of you. Really impressed , keep up the good work. "

Pat Schaller - Doug Church's manager, New Jersey USA
" Great vocals my friend! Hopefully we get to do something in the future together an Elvis, Roy & Buddy Holly Show! Very talented vocalist! "

Jesse Aron (Winner of 'Images Of The King 2009'), Wisconsin USA
" An amazing voice! A real quality tribute to the King of the 50's and 60's. An Artist who would do the King himself proud. keeping his spirit alive. A rare treat for all English and European fans. Darren is one of the best there is!!! God bless you "

Chris Loughrey, UK
" Great tribute to the King! Karate stances give you the edge on the others.......especially in the black leather.....! Love'n'hugs from Sue "

Sue Milestone - Elvis Presley Fan Club, Bristol UK
" We just love the way you give a Tribute to the King!! Keep on going, buddy, you are doing a great job!! "

Essie & Johnny Reel, Norway
" This is the president of Golden Voice, Norway. A great performer! Best regards and good luck! "

Kjell Elvis- Golden Voice, Norway
" I just wanted to thank you for the excellent perfomance on Saturday evening. I thought your Legends tribute show was superb, well balanced and well presented. The very fact that you filled the dance floor says it all. Just goes to show that you don't have to do all Elvis to Elvis fans. Thanks again - you did us (and yourself) proud. "

David J Wade - Arena Travel, UK
" Allow me to start off by saying it does my heart a world of good to see a fellow ETA bringing only good things to the memory of Elvis. That is our first duty, to keep the memory of the greatest entertainer of the 20th century pristine and clean though our professionalism and our desire to do the best we can as vocalists, entertainers and representatives of the highest caliber! I applaude your work and encourage great things from you and your support group. God bless! "

Doug Church - Known worldwide as "The Voice Of Elvis" Indiana, USA