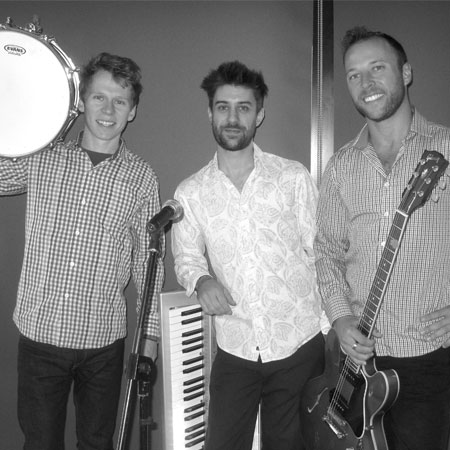 3 Piece Acoustic Covers Band
Fantastic 3-piece vocal harmonies and acoustic instrumentation provides the perfect soundtrack
Professional musicians with over 15 years experience performing at all kinds of events
Repertoire inc. an eclectic range of genres from Top 40 to Classic Rock and Country
Perfect for weddings, drinks receptions, corporate events and much more
Book our 3 Piece Acoustic Covers Band for events in UK and worldwide
Our acoustic covers band and live lounge band from Melbourne Australia are the perfect acoustic trio for your event. A great choice for drinks receptions and venues with noise restrictions, our acoustic band will provide the perfect soundtrack to a perfect occasion.
With over 15 years experience as session musicians and 10 years experience performing together on prestigious cruise liners and premier Australian venues including Brighton Ballroom and Crown Casino, our acoustic covers band are well versed in provide high-end musical entertainment for all kinds of events and audiences.
All professional musicians with BAs in music, these musicians' impressive talent and close friendship show through in their stage performances which combine effortless fun and incredible acoustic music! Guaranteed to create an uplifting atmosphere that will create the perfect backdrop for your event, our live lounge band have an eclectic repertoire from which they can create custom set lists to accompany each individual event. Whether you're a fan of folk and country, classical rock, jazz, or Top 40 hits our acoustic trio can create something perfectly suited to your musical tastes and event.
Offering spine-tingling harmonies and able to play a range of different instruments, our acoustic band can tailor their performance to you. Performing danceable sets that will have everyone on their feet, or atmospheric background music, our live lounge band is ideal for both drinks receptions and parties. Due to the nature of their acoustic performance they can also play both indoors and outdoors and are great for venues with noise restrictions.
Renowned for their fun-loving on stage personality, skilled performances and impressive versatility, book our acoustic covers band and you will not be disappointed.
If you'd like to find out more about our acoustic band from Melbourne, discuss customisable options, or book them for your event, get in contact with our experienced entertainment co-ordinators who are on hand to help!
Ac/dc - Shook Me All Night Long
Ac/dc - Back In Black
Adele - Rolling In The Deep
Al Green - Lets Stay Together
America    - Horse With No Name
America    - Ventura Highway
Amy Winehouse - Valerie
Beatles    - All You Need Is Love
Beatles    - Blackbird
Beatles    - Come Together
Beatles    - Help From My Friends
Beatles    - Get Back
Beatles    - In My Life
Beatles    - Saw Her Standing There
Beatles    - Twist And Shout
Ben Harper - Burn One Down
Ben Harper - Diamonds On The Inside
Ben Harper - Steal My Kisses
Beyonce    - Bootylicious
Bill Withers - Aint No Sunshine
Bill Withers - Just The 2 Of Us
Bill Withers - Lovely Day
Bill Withers - Use Me Up
Black Keys - Lonely Boy
Bob Marley - Could You Be Loved
Bob Marley - Is This Love
Bob Marley - Lively Up Yourself
Bob Marley - One Love
Bob Marley - No Woman No Cry
Bob Marley - Wait In Vain
Bob Seger - Old Time Rock N Roll
Brittany Spears - Toxic
Bruce Springsteen - I'm On Fire
Bruno Mars - Locked Out Of Heaven
Bruno Mars - The Lazy Song
Buffalo Washington - For What Its Worth
Bush - Glycerine
Calvin Harris - Feel So Close
Carlos Santana - She's Not There
Carlos Santana    - Smooth
Chris Isaak - Wicked Game
Cindy Lauper - Girls Just Wanna Have Fun
Cold Chisel - Khe Sahn
Cold Chisel - Cheap Wine
Coldplay - Clocks
Coldplay - Magic
Coldplay - God Put A Smile On Your Face
Commitments - Mustang Sally
Crowded House - Don't Dream Its Over
Daddy Cool - Eagle Rock
Daft Punk - Get Lucky
Darryl Braithwaite - Horses
Dave Dobbin - Slice Of Heaven
Dire Straites - Walk Of Life
Dobbie Gray - Drift Away
The Doors - Love Me Two Times
Doobie Brothers - Long Train Running
Don Henley - Boys Of Summer
Earth Wind Fire    - September
Ed Sheeran - Don't
Ed Sheeran - Thinking Out Loud
Elton John - Bennie And The Jets
Elton John - Crocodile Rock
Elton John - Rocket Man
Foo Fighters - Wheels
Four Non Blondes - Whats Up
Four Seasons - Too Good To Be True
Fleetwood Mac - Rhiannon
George Ezra - Budapest
George Michael - Faith
Gnarls Barkly - Crazy
Gnarls Barkly - F#ck You
Goyte - Somebody That I Used To Know
Guns N' Roses - Patience
Hunters & Collectors - Holy Grail
Imagine Dragons    - On Top Of The World
Inxs - Never Tear Us Apart
Jack Johnson - Better Together
Jack Johnson - Taylor
Jackson 5 - I Want You Back
Jamiroquay - Cosmic Girl
Jamiroquay - Virtual Insanity
Jason Mraz - I'm Yours
Jet - Are You Gonna Be My Girl
Jimi Hendrix - Wind Cries Mary
Joe Cocker - Feeling Alright
John Melloncamp  - Jack & Diane
John Legend - Ordinary People
John Mayer - Gravity
John Mayer - No Such Thing
John Mayer - Waiting On The World To Change
Johnny Diesel - Crying Shame
Johnny Diesel - Tip Of My Tongue
Justin Timberlake - Sexy Back
Justin Timberlake - Suit & Tie
Katrina & The Waves - Walking On Sunshine
Katy Perry - Roar
Kc & Sunshine Band - Shake Shake Shake
Kc & Sunshine Band - That's The Way I Like It
Kings Of Leon - Sex On Fire
Kings Of Leon - Somebody I Used To Know
Led Zeppelin - Ramble On
Lionel Ritchie    - All Night Long
Lionel Ritchie    - Easy
Lynard Skynard - Sweet Home Alabama
Lumineers - Ho Hey
Maroon 5  - Moves Like Jagger
Maroon 5 - Payphone
Maroon 5 - This Love
Marvin Gaye - Whats Going On
Matchbox 20 - 3am
Mgmt - Electric Feel
Mgmt - Electric Feel
Michael Jackson    - Human Nature
Michael Jackson    - Man In The Mirror
Michael Jackson    - P.y.t
Michael Jackson    - Rock With You
Proclaimers - 500 Miles
Mr Probs - Waves
Neil Diamond - Cherry Cherry
Neil Diamond - I'm A Believer
Neil Diamond - Sweet Caroline
Nicky Minaj - Starships
Oasis - Champagne Supernova
Oasis - Wonderwall
Ottis Redding - Dock Of The Bay
Ottis Redding - Hard To Handle
Ottis Redding - Midnight Hour
Paul Simon - Call Me Al
Pearl Jam - Betterman
Pearl Jam - Daughter
Pina Colada
Pink - Fun House
Pink - Try
Pink Floyd - Another Brick In The Wall
Pink Floyd - Wish You Were Here
Pharrell Williams - Happy
Pharrell /thicke - Blurred Lines
Phil Collins - Another Day In Paradise
Police The - Every Little Thing She Does
Police The - Message In A Bottle
Police The - Roxanne
Police The - Walking On The Moon
Prince    - Kiss
Prince    - Rasberry Beret
Queen - Crazy Little Thing Called Love
Queen - Don't Stop Me Now
Ray Charles - Drown In My Own Tears
Ray Charles - Shake Your Tailfeather
Rihanna    - Cheers Drink To That
Rihanna    - You Da One
Rihanna & Kanye West - Four Five Seconds
Rod Stewart - Maggie May
Rolling Stones - Beast Of Burden
Rolling Stones - Brown Sugar
Rolling Stones - Honky Tonk Woman
Rolling Stones - Jumping Jack Flash
Rolling Stones - Miss You
Rolling Stones - No Satisfaction
Rude - Magic
Sam Smith - Stay With Me
Scissor Sisters - Take Your Mamma Out
Sheppard - Geronimo
Sonia Dada - Lover Don't Treat No Good
Stand By Me - The Drifters
Steelers Wheel - Stuck In The Middle
Stevie Wonder - For Once In My Life
Stevie Wonder - I Wish
Stevie Wonder - Living For The City
Stevie Wonder - Master Blaster
Stevie Wonder - Signed Sealed Delivered
Stevie Wonder - Superstition
Sweet Caroline - Neil Diamond
Tao Cruz - Dynamite
Tom Petty - Free Falling
Taylor Swift - 22
Taylor Swift - Shake It Off
Travelling Wilbury's - Handle With Care
Tracy Chapman - Fast Car
T-rex - Get It On
U2 - All I Want Is You
U2 - Beautiful Day
U2 - Mysterious Ways
U2 - Streets Have No Name
U2 - With Or Without You
Van Morrisson - Brightside Of The Road
Van Morrisson - Brown Eyed Girl
Van Morrisson - Crazy Love
Vance Joy - Riptide
Verve The - Bitter Sweet Symphony
Violent Femmes - Blister In The Sun
Wild Cherry - Play That Funky Music
Womack & Womack    - Teardrops
Top 40/ Classic Rock
Antonio Carlos Jobim - Corcovado
Antonio Carlos Jobim  - Dindi
Antonio Carlos Jobim - Wave
Billie Holiday - God Bless The Child
Bobby Darin - Beyond The Sea
Count Basie - All Of Me
Count Basie - Don't Get Around Much Anymore
Dean Martin - Aint Love A Kick In The Head
Dean Martin - Your Nobody Until Somebody Loves You
Dean Martin - Dream A Little Dream Of Me
Ella Fitzgerald    - All Of Me
Ella Fitzgerald - Only A Paper Moon
Ella Fitzgerald    - My Romance
Ella Fitzgerald    - Skylark
Ella Fitzgerald    - Someone To Watch Over Me
Ella Fitzgerald    - Summertime
Frank Sinatra - Come Fly With Me
Frank Sinatra - Fly Me To The Moon
Frank Sinatra - I Thought About You
Frank Sinatra - Mack The Knife
Frank Sinatra - Moon River
Frank Sinatra - My Funny Valentine
Frank Sinatra - Pennies From Heaven
Frank Sinatra - New York New York
Frank Sinatra - Summer Wind
Frank Sinatra - The Way You Look Tonight
Frank Sinatra - That's Life
George Benson - On Broadway
George Benson - Days Of Wine And Roses
Joe Henderson - Black Orpheus
Louise Armstrong - Wonderful World
Michael Buble - All The Way
Michael Buble - Have You Met Miss Jones
Michael Buble - Our Love Is Here To Stay
Michael Buble - Night And Day
Michael Buble - Someone To Watch Over Me
Michael Buble - When I Fall In Love
Nat King Cole - L.o.v.e
Rey Henderson - Bye Bye Blackbird
Sam Cooke - Cupid
Sam Cooke - Wonderful World
Van Huesen - Like Someone In Love
Country
Alabama    - Song Of The South
Allman Brothers    - Rambin' Man
Bob Dylan - Don't Think Twice Its Alright
Bob Dylan - Baby Tonight
Black Keys - Lonely Boy
Creedence Clearwater - Bad Moon Rising
Creedence Clearwater - Have You Ever Seen The Rain
Creedence Clearwater - Looking Out My Backdoor
Creedence Clearwater - Proud Mary
Carole King - You've Got A Friend
Crosby Stills & Nash - Helplessly Hoping
Dolly Parton - Jolene
Dolly Parton - Something Special
Dolly Parton - 9-5
Dusty Springfield - Son Of A Preacher
Everly Brothers    - Bye Bye Love
Hank Williams - I'm So Lonesome I Could Cry
Hank Williams Jr - A Country Boy Can Survive
James Taylor - Fire And Rain
Johnny Cash - I Walk The Line
Johnny Cash - Foolsome Prison Blues
Johnny Cash - Ring Of Fire
John Denver - Leaving On A Jet Plane
Keith Urban - Days Go By
Keith Urban - Raise Em Up
Keith Urban - You Look Good In My Shirt
Kenny Rodgers - The Gambler
Merle Haggard - Okie From Miskogee
No Fences - Friends In Low Places
Patsy Cline - Crazy
Paul Kelly - To Her Door
Paul Kelly - Dumb Things
Neil Young - Old Man
Shania Twain - That Don't Impress Me Much
Tammy Winnette - Stand By Your Man
The Band - The Weight
Willy Nelson - Always On My Mind
Jazz