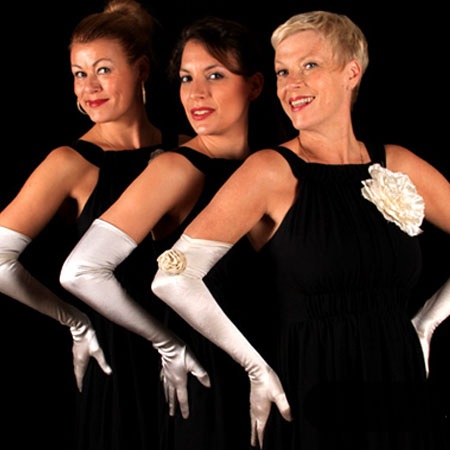 3 Swinging Ladies
Glamorous performance of Swing, Jazz and 1920s inspired hits
Vocal Jazz Trio with orchestral arrangements
Award Winning entertainment
Available as a trio or with a larger full band line up
Based in Paris and available to perform across France
Three swinging, explosive, glamorous ladies from Paris perform a delightful mix of Swing, Jazz and 1920s inspired hits.
Their show is joyful, with original, beautiful and daring vocal and orchestral-arrangements.  It's a visual happening and there is wonderful interaction with the audience.
From Cole Porter to the Beatles, from Lionel Hampton to Charlie Mingus, they come highly recommended.
They have performed internationally from Brazil to Morocco and are an award winning Vocal jazz trio!
Perfect for Corporate Events in France, Lounge Jazz, Cocktail Hour, Weddings, Parties and Events throughout Paris, France and across Europe.
Sing SingSing Louis Prima
How high the moon M. Lewis N. Hamilton
Jersey Bounce R. Wright B. Plater T. Bradshaw Ed Johnson
Love for sale Cole Porter
Makin' whoopie W. Donaldson G. Kahn
Midnight Sun S. Burke L. Hampton J. Mercer
Rag Mop D. Anderson J. L. Wills
Skylark Carmichael Mercer
Slipped disc Benny Goodman
Spiderman  Charlie Mingus
The man I love G. & I. Gershwin
They can't take that away from me G. & I. Gershwin
Lonely Avenue Ray Charles
Hit the road jack Ray Charles
It should have been me Ray Charles
I've got a woman Ray Charles
Wang Dang Doodle Pointer Sisters
Steam Heat Pointer Sisters
Because Beatles
She's leaving home Beatles
Queen Bee Rupert Holmes
Fever J. Davenport E. Cooley
The Christmas Song
Silent Night
Go Tell It On The Mountain
Have Yourself A Merry Little Christmas
White Christmas
Hark the Herald Angels Sing
Let It Snow
Winter Wonderland
Santa Baby
Mary's Boy Child
Santa Claus Is Coming To Town
Jingle Bells
Come Let Us Adore Him
Jingle Bell Rock
Rocking' Around the Christmas Tree
A Capella
Boogie woogie bugle boy Don Raye & Hughie Prince
My favorite things. Rodgers & Hammerstein
Christmas Songs:
Festival « les Soirées d'été «  Paris 3
Festival Jazzellerault ( Chatellerault )
Jazz à Eaubonne
Jazz à Chabris
Jazz au Sources ( Chatellerault )
Jazz à Trivy
Jazz in Marciac ( le off )
Jazz à Montauban
Jazz à St Rafael
Festival de jazz Porrentruy ( Suisse)
Strasbourg Jazz Festival
Festival « Jazz in Sanguinet » ( les Landes )
Jazz in Vias   ( Béziers )
Le Duc des Lombards
Caveau de la Huchette
River Café
l'Européen  ( une premier partie )
Four Seasons George V
La Bellevilloise
THEATRES/ CENTRES CULTURELS
Théâtre de Garde Chasse ( les Lilas )
Théâtre de l'Odyssée ( Perigueux )
Centre culturel de Bondues( Pas de Calais )
Centre des Arts et de Culture de Meudon
Théâtre d'Egreville
CASINOS
Casino d'Antibes
Casino d'Enghien
DIVERS
Le Maxim Saury Jazz Club ( Lisses)
Château de Ratilly (Bourgogne)
Bassin' Jazz ( Bordeaux)
Events
CNAV
Matmut
Musée Baccara
Tan'Jazz  ( Tanger / Maroc )
Les Voix du Jazz ( Champs sur Marne )
Festival Parcours Croisé ( Brignoles )
Jazz à Bourg Madame
Denis Jazz Festi'Val
Festival d'Avignon
Jazz à Andresy
Jazz à Ramatuelle
Jazz à Etiolles
Jazz à St Quentin
Jazz à Lunel
Festival d'Andernos « Jazz en liberté Festival de Montségur « 24 heures du swing
Festival  « Jazz in Langourla » ( Bretagne )
Jazz à l'Amirauté  ( Pléneuf / Val-André )
PARIS
Maison des Métallos
Lionel Hampton Jazz Club
Le Divan du Monde
Plaza Athénae
Salle Cortot
Théâtre de Crosne ( 91 )
Théatre de Ménilmontant ( Paris )
Palais des Congres ( Perpignan )
Palais des Fêtes ( Romainville )
Théâtre d'Arnouville les Gonesse
Casino de Deauville
Casino de Trouville ( Jazz à Trouville )
Le Cazaudehore ( Diner jazz à St Germain en Laye )
Jazz Club de Cogolin ( Ramatuelle )
Jazz for ever ( Bordeaux )
RATP
Crédit Mutuel
MAIF
Mairie de Paris 5
Jazz en Touraine
" Three show women who are joining musical talent at humor. Famous themes visited by groovin' rythms. The three devils lefted with the "Award" of Jazz à Juan. "

NICE MATIN
" The trio had the audience buzzing. As talented as they are funny and provocative, they always careful to preserve the quality of the music. "

L'INDEPENDANT
" I take my hat off to the vocal trio, so much charm so much talent "

LA DEPECHE DU MIDI
" A triumph for the trio at the cultural centre, the delicious blend of the three voices and the musical harmony enchanted the spectators. "

NORD ECLAIR
" One thing is for sure, the three swinging ladies have their plus amongst the greats of jazz. "

LA NOUVELLE REPUBLIQUE
" Watch out ! This is dynamite! An explosion of ultra female energie. Three funny ladies, three voices, three talents. A vocal trio declared First Award Jazz à Juan. "

NICE MATIN
" The Award became to the joyful, funny, spectaculair singers of the vocal trio, accompagnied by the excellent vibes-player Dany Doris on swinging arrangements of Claude Tissendier. "

JAZZ MAGAZINE
" the style of Dany Doriz is a delight. His sextet a team of excellent musiciens among who Marc Fosset and Claude Tissendier. On the vocal side three talented and experimented singers. Pure voices, sense of nuances, diversity of colours, very good arrangements and harmonizing… "

JAZZ MAGAZINE
" a classic jazz program, the vocal arrangements very well done and a nice execution without difficulty. There is humor and a sane aggresivity. The music directed by Mister Tissendier played with much talent… "

JAZZ HOT
" Award 2004 Jazz à Juan: an Award that seems justified by listening this album… "

JAZZMAN
" this trio has been made for success… "

FEMME ACTUELLE
" Three singers who are scatting and moving together, three harmonized voices. They're good, very good, it's swinging all over "

JAZZ CLASSIQUE
" As funny as possible, they are enjoying their show. The sextet of Dany Doris are playing a perfectly adapted good swing around these three ladies... "

DNA
" A marvellous show. Is it because they are simply good that the evening was made of gold?Anyway the synergy worked, the fever came over... the trio brought laughing, grace and joy... "

NICE MATIN
" This trio has a cheering inventiveness and a great musical quality, they will go very far… "

Natalie Dessay in Le Monde de la Musique
" The trio had the audience buzzing. As talented as they are funny and provocative, they always careful to preserve the quality of the music. "

L'INDEPENDANT
" I take my hat off to the vocal trio, so much charm so much talent "

LA DEPECHE DU MIDI
" A triumph for the trio at the cultural centre, the delicious blend of the three voices and the musical harmony enchanted the spectators. "

NORD ECLAIR
" One thing is for sure, the three swinging ladies have their plus amongst the greats of jazz. "

LA NOUVELLE REPUBLIQUE
" Watch out ! This is dynamite! An explosion of ultra female energie. Three funny ladies, three voices, three talents. A vocal trio declared First Award Jazz à Juan. "

NICE MATIN
" Three show women who are joining musical talent at humor. Famous themes visited by groovin' rythms. The three devils lefted with the "Award" of Jazz à Juan. "

NICE MATIN
" The Award became to the joyful, funny, spectaculair singers of the vocal trio, accompagnied by the excellent vibes-player Dany Doris on swinging arrangements of Claude Tissendier. "

JAZZ MAGAZINE
" the style of Dany Doriz is a delight. His sextet a team of excellent musiciens among who Marc Fosset and Claude Tissendier. On the vocal side three talented and experimented singers. Pure voices, sense of nuances, diversity of colours, very good arrangements and harmonizing… "

JAZZ MAGAZINE
" a classic jazz program, the vocal arrangements very well done and a nice execution without difficulty. There is humor and a sane aggresivity. The music directed by Mister Tissendier played with much talent… "

JAZZ HOT
" Award 2004 Jazz à Juan: an Award that seems justified by listening this album… "

JAZZMAN
" this trio has been made for success… "

FEMME ACTUELLE
" Three singers who are scatting and moving together, three harmonized voices. They're good, very good, it's swinging all over "

JAZZ CLASSIQUE
" As funny as possible, they are enjoying their show. The sextet of Dany Doris are playing a perfectly adapted good swing around these three ladies... "

DNA
" A marvellous show. Is it because they are simply good that the evening was made of gold?Anyway the synergy worked, the fever came over... the trio brought laughing, grace and joy... "

NICE MATIN
" This trio has a cheering inventiveness and a great musical quality, they will go very far… "

Natalie Dessay in Le Monde de la Musique